Pyongyang touts successful test of 'new powerful anti-ship cruise missile'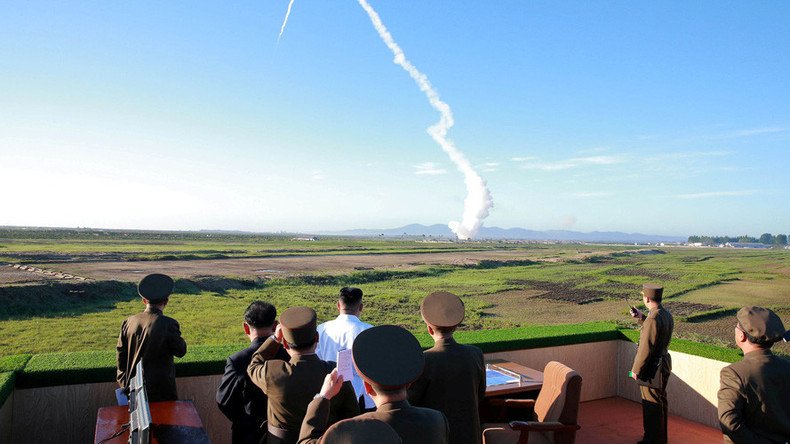 North Korea has claimed that it successfully tested a new type of ground-to-sea cruise missile, capable of striking an entire "group of battleships." The newly gained capability, Pyongyang says, allows it to defend itself against the US armada deployed in the region.
On Thursday, Pyongyang launched a number of missiles which flew about 200 km (124 miles), before descending into the Sea of Japan.
The launch was confirmed Friday by the Korean Central News Agency (KCNA), which boasted about North Korean leader Kim Jong-un supervising the test.
"The launched cruise rockets accurately detected and hit the floating targets on the East Sea of Korea after making circular flights," KCNA said.
The aim of the missile test, the statement said, was to confirm the functionality of the rocket and the caterpillar pad vehicle carrying it, as well as the weapon system combat application.
"This new-type cruise rocket is a powerful attack means capable of striking any enemy group of battleships attempting a military attack on the DPRK," the KCNA statement reads.
Following Thursday's test launch, South Korea said its neighbor is trying to showcase its capabilities in an effort to deter any future joint US-South Korean naval drills.
"We believe North Korea has demonstrated its anti-denial deterrence capabilities in response to the joint military exercise in the East Sea [Sea of Japan]," where USS Carl Vinson and Ronald Reagan participated in a joint exercise last month, Seoul's Joint Chiefs of Staff Spokesperson Col. Roh Jae-cheon said in a briefing.
South Korea's presidency said the latest launch could pose a "direct threat" to its national security.
On Wednesday, the head of the US Missile Defense Agency (MDA) also warned that Pyongyang's missile tests in the last six months have become a cause for concern to the US and its allies in the region.
"It is incumbent on us to assume that North Korea today can range the United States with an ICBM carrying a nuclear warhead," Vice-Admiral James Syring, director of the MDA, told the House Armed Services Committee. Syring however assured US lawmakers that America has the ability to defend itself against the North Korean threat.
You can share this story on social media: