Ex-president of Panama arrested in Florida, faces extradition
Published time: 13 Jun, 2017 06:44
Edited time: 14 Jun, 2017 07:52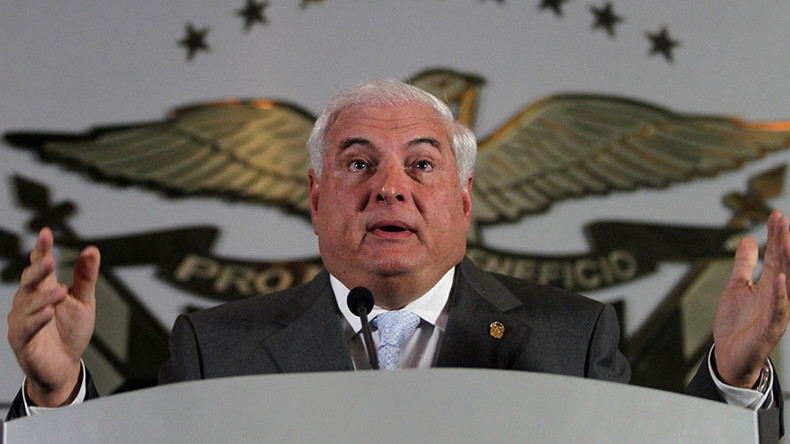 Former Panamian leader Ricardo Martinelli, wanted by Interpol and at home on charges of embezzlement and spying, was detained on a provisional arrest warrant near Miami and taken into custody ahead of looming extradition.
Martinelli was arrested near his home in Coral Gables, southwest of downtown Miami, at about 6:30pm on Monday evening, the Miami Herald reported.
The disgraced politician, who had fled to Miami fearing persecution for corruption charges in Panama, was transferred to the Federal Detention Center in Miami, where he will stay until his extradition hearing kicks off on Tuesday morning.
In issuing the arrest warrant for Martinelli, the US Justice Department, which handled the arrest, was acting on the extradition request filed by the Panamanian government.
While the former president is wanted on an array of charges, including allegedly snooping on over 150 political rivals at home and making a fortune off of a government-run social welfare program, the content of the US arrest warrant has not been disclosed, with Manny Puri, assistant chief deputy marshal in South Florida, only saying that it included multiple charges against the former politician.
In 2015, a Panamanian court launched an investigation implicating Martinelli in the embezzlement of millions of dollars from a school lunch program by paying inflated prices to purchase dehydrated food. The contracts in question are estimated to be worth about $45 million.
He managed to escape the country before an arrest warrant was issued for him in Panama in December 2015. The accusations revolved around alleged spying on political opponents, public figures, and journalists with the help of $750,000 in public funds.
Puri revealed that prior to Martinelli's arrest, his home was put under surveillance to determine whether he was residing there.
Martinelli, also a billionaire supermarket chain owner, was the president of Panama from 2009 to 2014.
In September of last year, Panama forwarded a formal extradition request to the US Department of State concerning Martinelli, who in turn accused the Panamanian government of politically motivated charges, saying that by initiating his extradition, the "dullest, most inept and corrupt government" seeks to divert attention from itself.
Last month, Interpol issued a red notice for the politician's arrest, envisioning that Martinelli would be located and then placed under provisional arrest before an extradition hearing.
Speaking about his legal troubles in the past, Martinelli said that he was ready to face trial in his home country on condition it would be fair, which he argued is impossible under the government of his successor and former vice president, Juan Carlos Varela.
Denying any wrongdoing, Martinelli insisted in December in a comment to the Miami Herald that he had been forced to flee to the US as "he faces political persecution" by Varela, claiming that all the probes launched against him were "politically motivated."