5,000+ NATO troops to take part in 'Iron Wolf' drills in Lithuania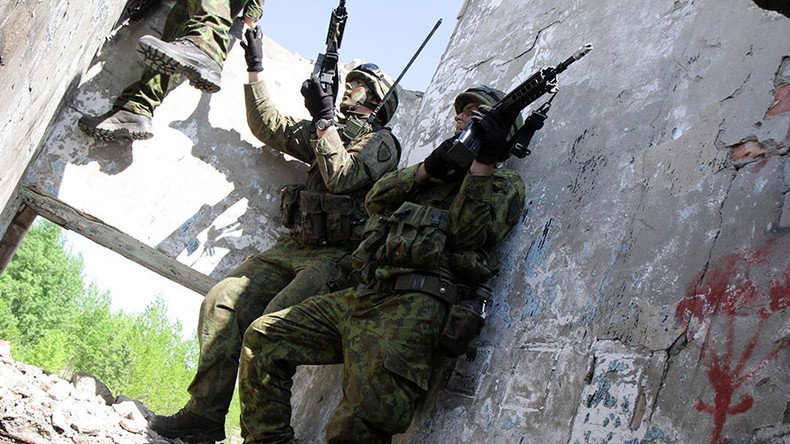 NATO troops have begun a 10-day military exercise, Iron Wolf 2017, in Lithuania, as part of a broader series of maneuvers aimed at deterring Russian "aggression." Around 5,300 troops from 10 NATO countries are set to take part
The maneuvers began Monday with opening ceremonies at military training grounds in Pabrade and Rukla (near Kaunas). The drills, which will last until June 23, are meant to test the capabilities of the German-led Forward Presence (eFP) Battalion Battle Group, also comprising soldiers from Belgium, the Netherlands and Norway. In July, Luxembourg will also contribute its forces to the group.
READMORE: NATO returning to 'historic role as war fighting command' to counter Russia – top US general
The exercise will be held in southern, central and eastern Lithuania, according to a Lithuanian Defense Ministry statement.
The exercises will be supervised by Lithuanian troops from the Iron Wolf Mechanised Infantry Brigade and the Žemaitija Brigade Motorized Infantry unit, who will plan and arrange defensive and offensive operations. The forces will practice coordination efforts and operating in populated areas.
"In order to ensure the quality of the country's defense readiness and our interoperability with allies, we will have to move part of the exercise to civilian areas. As a result, in June Lithuanian residents will see an increase in the movement of troops not only in training areas, but also on civilian roads and private areas," Lithuanian Land Forces commander Brig. Gen. Valdemaras Rupsys said at a press conference, as quoted by the newspaper Respublika.
"The deployment of troops and equipment from abroad has already started last week. A company came to Lithuania from Portugal and a battalion from the United States. The Lithuanian army will keep the public regularly informed and expects understanding."
Aside from the Battle Group and local Lithuanian forces, also taking part in Iron Wolf are troops from the United States, United Kingdom, Poland and Portugal.
In addition, around 1,500 British, Polish, American and Lithuanian troops will take part in exercises in the Suwalki Gap, a small patch of land between Poland, Lithuania, Belarus and the Russian enclave of Kaliningrad from June 17-19.
"This operation is held for the first time. The main task of the drills is to get ready to receive allies in Lithuania. This is solely a tactical procedure: how [the allies] will cross the border through the territory controlled by our forces, how they will move on further into Lithuania," said Brig. Gen. Rupsys, as quoted by Sputnik news agency.
Together these drills form part of a broader NATO exercise known as Saber Strike, taking place in the Baltic states and Poland. The enhanced Forward Presence (eFP) Battalion Battle Group, whose readiness is being tested, are currently being stationed in Latvia, Estonia, Lithuania and Poland to "deter aggression throughout Europe," according to the MoD press release.
Russia has repeatedly criticized NATO's military buildup along its borders as a threat to national security. In February, Russian President Vladimir Putin blamed NATO for provoking a conflict with Moscow and using its "newly-declared official mission to deter Russia" as a pretext.
Also in February, speaking at the Munich Security Conference, Russian Foreign Minister Sergey Lavrov noted that "NATO's expansion has led to an unprecedented level of tension over the last 30 years in Europe."
You can share this story on social media: