Dozens detained in Moscow as protesters show up at unauthorized location (VIDEOS, PHOTOS)
Dozens were detained at an unauthorized protest in Moscow after Aleksey Navalny called for the demonstration to be moved from its authorized location, citing obstructions to installing a sound system and stage. Hundreds turned up at the authorized site, with sound systems present.
Recap: RT's extensive LIVE updates on Moscow protest rallies
About 4,500 people took part in an unauthorized protest on Tverskaya Street in the center of the Russian capital, Moscow police said in a statement.
Navalny has been detained for 30 days, starting Monday, after a Moscow court confirmed his arrest and charged him with disobeying law enforcement officers and repeatedly violating the rules for organizing a rally.
Navalny was found guilty of "the violation by an organizer of a public event of the established rules of organizing… a [street] meeting, rally or demonstration," the court's statement read, as cited by RIA Novosti.
More than 150 people were taken to police stations for "breaching public order," the statement added.
Protest at historic fair contained. Police making arrests. Opposition chanting "shame". People urged to go to designated protest venue pic.twitter.com/oStdAM4uSi

— Murad Gazdiev (@MuradGazdiev) June 12, 2017
It came after one of the organizers, Aleksey Navalny, called for the demonstration to be moved from the authorized location on Sakharova Street to Tverskaya Street, through a message on his website just hours before the event. Navalny cited a lack of stage and audio systems as a reason for moving the location.
"Some contractors refuse [to provide equipment] straight away, others when they learn about the geolocation," Navalny claimed, adding that equipment suppliers were allegedly being "pressured" not to work with him, regardless of the money he offered.
Navalny urged protesters to come to Tverskaya Street instead. Moscow authorities announced they were not contacted on the issue and assumed that it was a "new provocation" intended to deceive people into attending an unauthorized gathering. The Moscow Prosecutor's Office warned Navalny that holding a demonstration on Tverskaya Street would violate the law and law enforcement would be compelled to take necessary measures.
Around 1,800 people, according to police estimates, showed up at the original location on Sakharova Street, and the demonstration concluded without any major incidents, according to Moscow police.
It can be seen in a video that a stage equipped with audio systems was functioning on Sakharova Street, and was used by people protesting a massive Moscow redevelopment project.
Navalny himself was not able to show up at any of the events, as he was detained by police before the beginning of the protest. According to his lawyer, Vadim Kobzev, Navalny's administrative case involves repeated violation of rules for organizing or carrying out a public rally.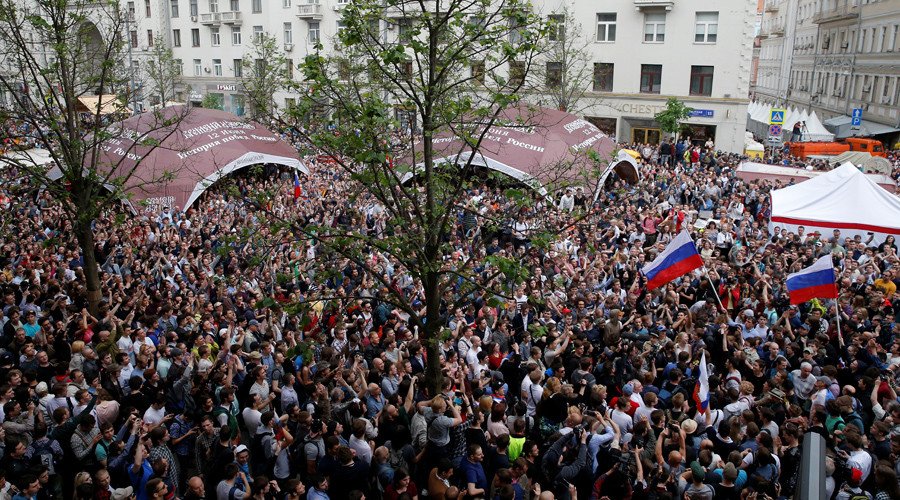 A number of opposition protesters, following Navalny's call, gatecrashed the celebrations on Tverskaya Street, including 'The Times and Epochs' historical festival. The festival has been running at multiple locations in Moscow since June 1, with over 6,000 reenactors participating, including history enthusiasts from the UK, US, Italy, Sweden, France, Ireland and other countries.
Families with children now fleeing historical fair in Moscow, after opposition protesters blockaded one of the enterances to the fair pic.twitter.com/DNN15xjKEd

— Murad Gazdiev (@MuradGazdiev) June 12, 2017
Police contained the unauthorized protest and urged them to go back to nearby Pushkinskaya Square in an orderly fashion. Over 150 people were detained in Moscow during the unauthorized protest, the police said.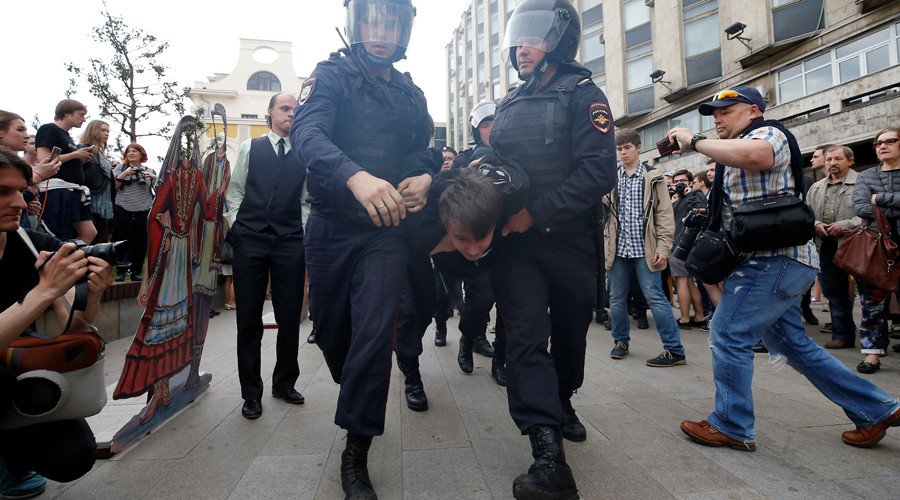 While 4,500 people came to Tverskaya Street to participate in the unauthorized protest, over 270,000 people visited the central Moscow street to take part in the Russia Day festivities, according to police estimates. Russia Day is the national holiday commemorating the 1990 declaration of sovereignty. Some 3.8 million people have participated in around 3,000 events across the country, police reported.
Another unauthorized protest rally was held in St. Petersburg. Some 3,500 people turned out at the event, according to police estimates, while at least 500 were detained over public order disruption.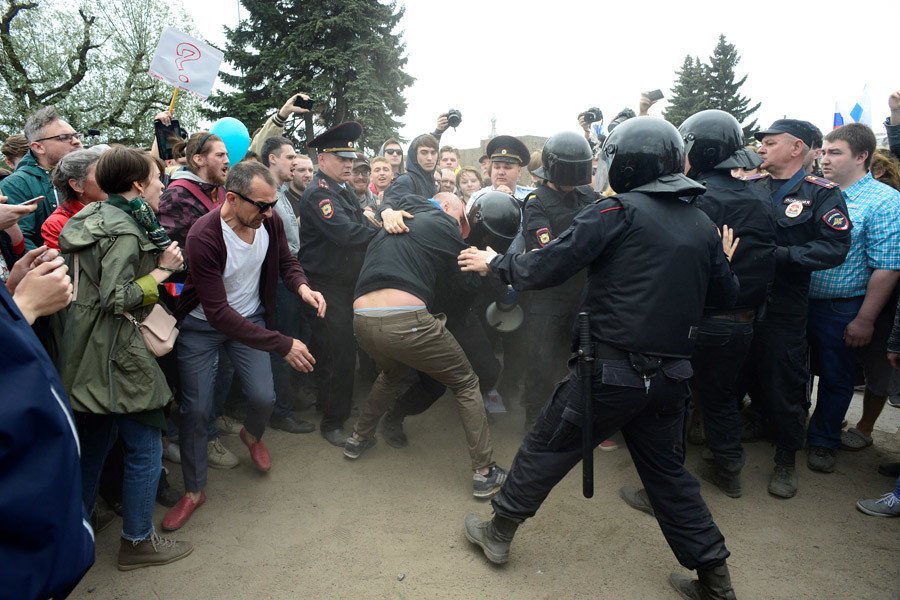 A number of sanctioned opposition protests were held across other Russian cities. The events concluded without any major incidents. Around 2,500 protesters participated in an anti-corruption demonstration In Chelyabinsk, according to police, and up to 2,000 people took part in an authorized rally in Ekaterinburg.
The protests in other Russian cities attracted much smaller turnouts. Rallies in Murmansk, Kurgan and Belgorod were attended by some 100 people each. About 150 protesters gathered in Cheboksary, Magnitogorsk and Ulan-Ude, about 200 met in Bryansk and Rostov-on-Don, and 300 people gathered in Tyumen.
You can share this story on social media: