Chinese passenger plane diverts due to huge hole in engine (PHOTOS)
Published time: 12 Jun, 2017 09:44
Edited time: 13 Jun, 2017 09:27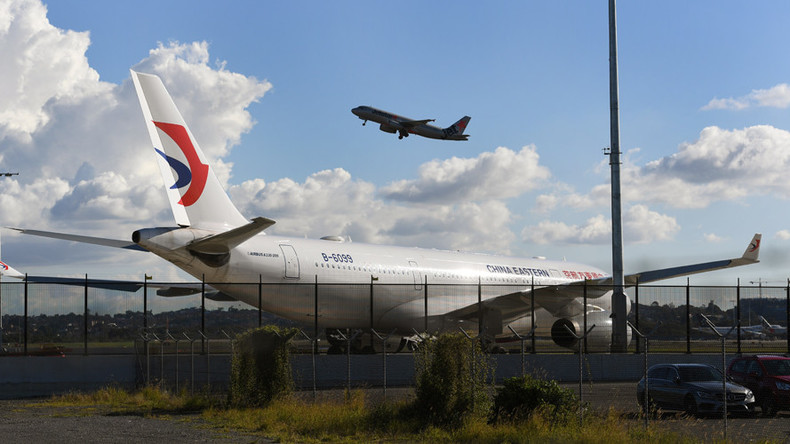 A China Eastern Airlines passenger plane bound for Shanghai has been forced to divert back to Sydney because of a massive hole in part of its left engine.
Flight MU736 initially took off from Sydney at 8:30pm on Sunday night, and the flight lasted for about an hour before the crew spotted the casing gash.
The jet in question, a twin engine Airbus A330, then landed safely in Sydney, the company announced.
"The crew observed the abnormal situation of the left engine and decided to return to Sydney airport immediately. All passengers and crew members were landed safely," Kathy Zhang, general manager for the Oceania region at China Eastern Airlines, told Reuters.
People on board heard a bang and started to smell the burning soon after take-off, according to Australian TV station Seven News. One of the passengers told the outlet, "Oh, I was scared. Yeah, I was really scared. Our group was terrified."
The crew tried to calm the passengers down, another passenger, identified as Eva, told Channel 9, adding that they "panicked" and "had no idea what was happening."
However, it is so far not known what exactly caused the mid-air emergency.
The aircraft is currently "under investigation at Sydney airport," while the passengers will have the flights to their destinations arranged shortly, Zhang said, as cited by ABC.
The Australia Transport Safety Bureau has sent an inspector to check the plane.
The aircraft's Trent 700 series engines were made by Rolls Royce, and a spokeswoman for the company said that they were "aware of the incident," and will be cooperating with their partners "to understand the cause of the issue."
China Eastern Airlines representative Kathy Zhang also said that there will be many parties, including the governments, involved in the investigation, as "the engine for the aircraft is a big issue."