Blast hits US embassy grounds in Ukrainian capital, no casualties – police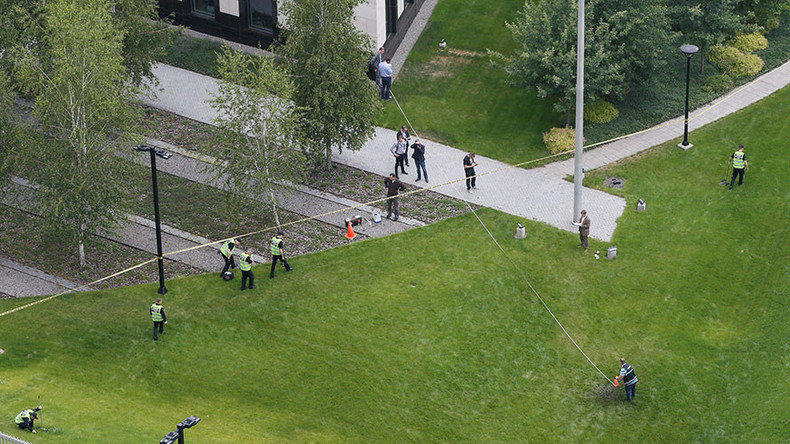 An unknown assailant threw an explosive device into the US diplomatic mission's premises in Kiev on Thursday night, police reported, adding that no one was hurt.
The explosion took place at 12:05am local time on Thursday, according to a Kiev police statement. Police immediately dispatched a rapid response unit to the embassy premises.
An investigation was initially launched into a suspected terrorist attack, but was later downgraded.
"The item that was thrown into the embassy compound could not have hurt anyone. This is why the final decision is to investigate this incident as aggravated hooliganism," Sergey Knyazev, head of the Ukrainian national police, said in a statement.
The announcement came after the embassy itself said on its Facebook page that it didn't consider the incident an act of terrorism. The US mission described the explosive item as a "small incendiary device."
Incidents involving explosive devices happen fairly often in modern Ukraine, which suffers from an influx of illegal weapons. On Monday morning a grenade blast killed a man and seriously injured a woman in Vyshgorod, a town some 8km north of Kiev.
On the night of May 28, a grenade was tossed at the property of a local businessman in the village of Sifievskaya Boshchagovka near the capital. Luckily, the blast didn't hurt anyone and only shattered a window in the house.
READ MORE: 'Act of terrorism': Polish consulate in western Ukraine comes under rocket fire (PHOTOS)
A week before that a grenade was thrown at night into the office of a Ukrainian nationalist organization in Kiev. And on the night of May 1, an explosive device detonated near a school in Les Kurbas Street in the capital.
Ukrainian police usually investigate such incidents as acts of hooliganism.
Diplomatic missions have come under fire in Ukraine too. In March, the Polish consulate in the western city of Lutsk was heavily damaged by an explosion after an anti-tank rocket launcher was used to attack it overnight.