Philippines asks Facebook to remove jihadists' church-burning video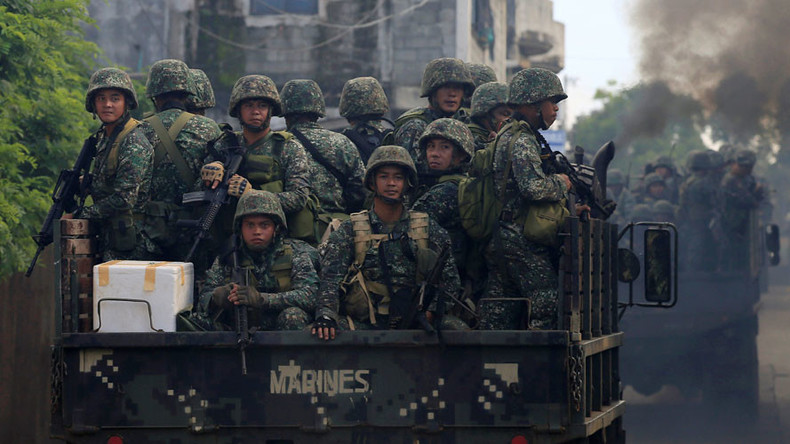 Philippine officials have asked social media firms like Twitter and Facebook to remove a video of militants smashing statues in a Catholic church.
Militants aligned with Islamic State (ISIS, Formerly IS/ISIL) are currently holding dozens of citizens hostage, including a Catholic priest, in the city of Marawi on the southern island of Mindanao. Some 2,000 civilians also remain trapped.
READ MORE: Duterte's martial law labelled 'unconstitutional' by Philippines opposition
Military spokesperson Brig. Gen. Restituto Padilla said the footage from the besieged southern city, which shows militants tearing up a picture of Pope Francis, smashing religious statues and setting fire to the church, is an attempt to fan hatred and turn the conflict into a religious war in the predominantly Catholic country.
"We requested that this be pulled out because it may fan hatred," Padilla told reporters. "It is intended by these militants to ... sow hatred among Christians and Muslims.
"This is not a religious war, this is a terror attack on the city of Marawi, and we must be clear about it."
Padilla also urged people not to "buy into the plan of these groups to inflame the feelings."
Meanwhile, Philippine president Rodrigo Duterte has ordered Philippine troops to "crush" the extremists.
"When I say crush them, you have to destroy everything, including lives. Rebellion is no joking matter," the president told reporters. "I cannot stop my soldiers now… let's finish this war that [ISIS] have started."
READ MORE: 'If they knew about Christians, all would be executed': Muslim saves dozens from ISIS in Philippines
The jihadists comprise of local Islamist militants and fighters from Saudi Arabia, Pakistan, Chechnya and Morocco, who joined under the Islamic State banner, Philippine officials say.