450+ far-right extremists at large in Germany, 'established Nazi underground' feared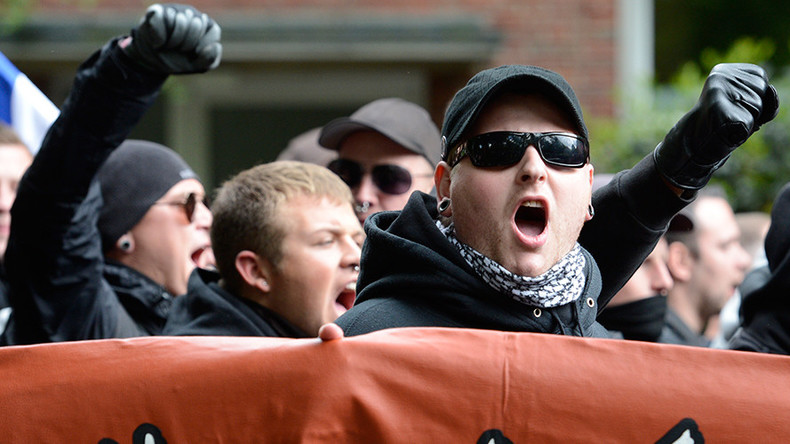 According to government data, 462 far-right extremists with warrants out for their arrest are still at large in Germany. Ulla Jelpke, a lawmaker for Die Linke (The Left) party, said the figure indicates the presence of an "established Nazi underground."
The German Interior Ministry released the figures in response to a parliamentary inquiry from Die Linke, Funke Media Group newspapers reported on Sunday.
According to the data, nearly 600 arrest warrants for the 462 extremists have not been carried out to date.
Out of the total number, 104 are wanted for violent crimes, while 106 are wanted for politically-motivated crimes. Ninety-eight of the suspects have been at large since 2015 or earlier.
In 2015, the number of fugitives on the loose was 372.
Domestic affairs spokesperson for Die Linke, Ulla Jelpke, said she was dismayed by the figures.
"I find the high number of fugitive neo-Nazis who have evaded arrest for a long period of time extremely disturbing," Jelpke said.
The figures are "an indication of an established Nazi underground," she noted.
According to Jelpke, the right-wing scene has exhibited a willingness to commit crimes and acts of violence, adding that the figures demonstrate that authorities have not boosted their efforts to track down right-wing extremists.
In April, Germany launched an investigation into 275 cases of suspected right-wing extremist activity among its military personnel. This included racist comments on the Internet and shouting "Heil Hitler," Germany's Defense Ministry told parliament in a letter, seen by RT.
The 16-page letter focused on the cases that involved soldiers making gestures used in Nazi Germany, along with the 'Heil Hitler' salute, and verbally abusing fellow servicemen with a migrant background.
Numerous Nazi-era military awards, propaganda posters, and steel Wehrmacht helmets were discovered at an army barracks in western Germany in May, during an investigation into Franco Albrecht, a 28-year-old first lieutenant who was allegedly plotting a hate-motivated terrorist attack.
Authorities said the officer had been living a double life for more than a year, serving in the army while receiving state benefits under a bogus identity as a supposed Syrian refugee.
German Defense Minister Ursula von der Leyen pledged to respond to the discovery of far-right sympathizers in the German Army with reforms.
You can share this story on social media: