Massive security measures for far-right party march in Germany (PHOTOS)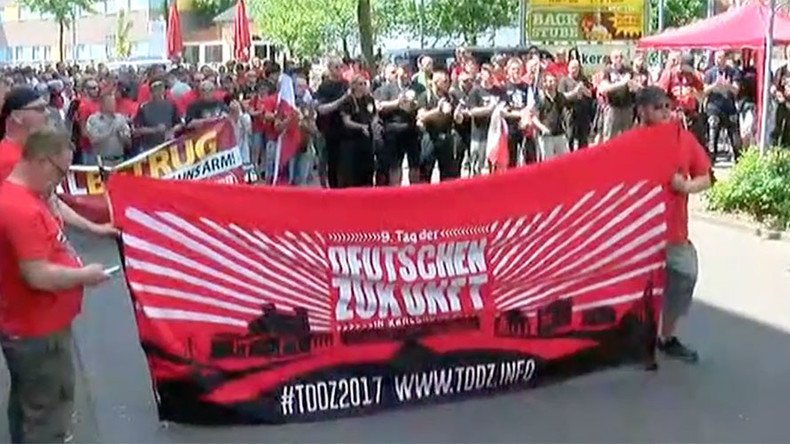 German police have deployed one of the largest forces in years to prevent possible violence during a far-right march, as left-wing groups staged a counter-rally in the same area. Nineteen people were arrested as some left-wingers attempted to disrupt the march, according to the police.
The march, dubbed the "Day of the German Future," was staged by extreme right party Die Rechte (The Right) the in southwestern city of Karlsruhe on Saturday. Some 900 far-right activists were expected to take part in the rally, but at the beginning of the event only around 300 were present, according to police estimates.
READ MORE: Over 200 anti-Muslim incidents so far this year – German authorities
The majority of the right-wing activists were dressed in red T-shirts and black pants. They carried various banners and Germany's imperial-era flags, while trying to march through the streets in an "orderly" fashion.
Left-wing groups held a counter-demonstration in the same area. Some 2,000 took part in the march, according to police estimates, while its organizers claimed a larger number of participants. The counter-rally was held under the slogans, "Karlsruhe shows the flag against the right" and "No future for Nazis."
The police expected violence between the activists of polarized political views and dispatched over 3,000 officers to the area, including riot, armed and mounted units to "prevent a clash of opposing camps," Karlsruhe police said in a statement. Local law enforcement was assisted by officers from several other German states, as well as by federal police.
"I am just as grateful for this support from the other departments in the country and the dedication of each of our officers," Karlsruhe's police chief said in a statement.
While the demonstrations were generally peaceful, a group of around 700 left-wing protesters tried several times to break through police cordons to disrupt the right-wingers' march, police said.
All the attempts were curbed by the police, but the left-wing activists clashed with law enforcement, throwing various projectiles at them. The police dispersed the attackers with pepper spray and batons, with minor injuries reported both among protesters and the police. Nineteen people, including three right-wingers, were arrested during the rallies.
As many activists of various political views came to Karlsruhe from other parts of Germany, police implemented tough security measures at a local railway station to prevent possible violence as the activists arrived and departed from the city. The departure went "largely trouble-free," according to federal police.
You can share this story on social media: