ISIS claims responsibility for London Bridge attack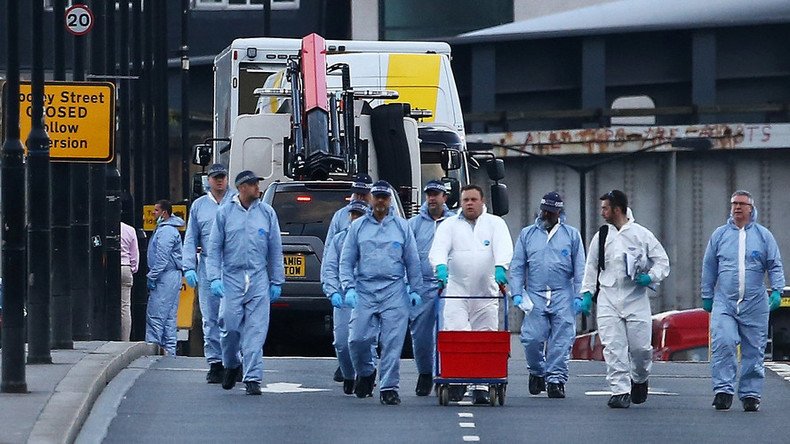 Islamic State has claimed responsibility for the London Bridge terrorist attack, issuing a statement through its propaganda news service on Sunday night.
READ MORE: 'They stabbed a girl 15 times as she begged for help': How the London Bridge attack unfolded
Islamic State's propaganda news service Amaq claimed its militants were responsible for killing seven people and injuring 48 in central London on Saturday, Rita Katz, Director of SITE Intelligence Group, said on her Twitter page.
Three attackers mowed down pedestrians before continuing the rampage on foot nearby in Borough Market. Armed police shot and killed the attackers within eight minutes.
Seven people were killed and 48 injured in the attack which began at 10pm local time. Shortly after midnight, police officially declared the attacks at London Bridge and Borough Market as "terrorist incidents."
READ MORE: London Bridge terrorist attack LIVE UPDATES
Islamic State (IS, formerly ISIS/ISIL) supporters celebrated the attack in IS-affiliated groups on the encrypted messaging app Telegram in the aftermath of the attack, but the terrorist group did not immediately jump to claim responsibility, the SITE director noted earlier Sunday.
11) #ISIS yet to publish any statement on #LondonAttacks --Unusual to group's pattern of claims; Tho pro-ISIS accounts continue to celebrate

— Rita Katz (@Rita_Katz) June 4, 2017
Multiple groups on Telegram shared images calling for more attacks during Ramadan, with supporters referring to each other and the attackers as wolves.
In the aftermath of the Manchester bombing, IS message boards on Telegram featured propaganda banners that also referenced previous attacks in Brussels and Paris.
READ MORE: 8 police fired 50 bullets to stop London attackers, shot & wounded member of public - police chief
You can share this story on social media: