8 officers fired 50 bullets to stop London attackers, shot & injured member of public - police chief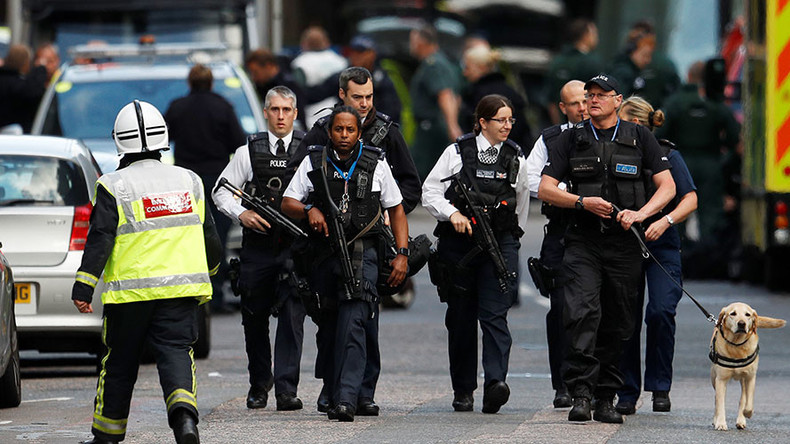 Britain's counter-terrorism police fired an 'unprecedented' number of rounds when engaging the terrorists responsible for Saturday's terrorist attack in London, Assistant Commissioner Mark Rowley said in a press conference.
"Our initial assessment is in the region of 50 rounds, in the region of 50 bullets were fired by those eight officers. The three attackers were shot dead," Rowley said
The eight armed police officers responded with such extreme force as they believed the suspects had explosive 'suicide belts' strapped to their bodies. Police later determined that the 'explosive devices' were, in fact, fakes.
"The National Counter Terrorism Policing network are working relentlessly with UK intelligence partners to piece together exactly what occurred," Rowley added.
Earlier today a series of raids were carried out Barking, leading to a total of 12 arrests.
READ MORE: Police arrest 12 people in London anti-terrorism raids, deploy armed street patrols - Scotland Yard
Rowley also discussed the unfortunate accidental shooting of a member of the public.
"As the officers confronted the terrorists – and were shot – a member of the public also suffered gunshot wounds. Although we do not believe the injuries to critical in nature, they are in hospital receiving medical attention. We will of course keep you updated on that."
He also confirmed that an off-duty officer was also injured in the incident.
"I can confirm that an off duty Met-Officer, based on Southwark borough, was caught up in the attack. Fortunately he has not suffered life threatening injuries, but he remains in hospital in a serious condition."
You can share this story on social media: