5yo Russian boy stabbed to death, mother injured in asylum shelter attack in Germany – police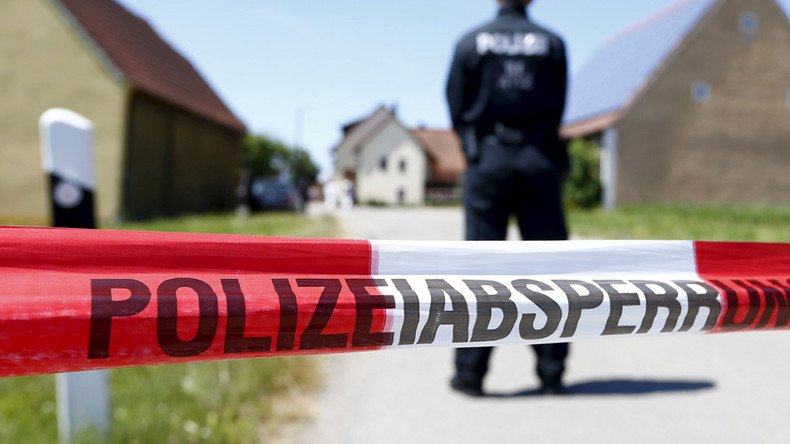 A knife-wielding attacker from Afghanistan has captured and lethally injured a 5-year-old boy and wounded his Russian mother in the Bavarian municipality of Arnschwang. The carnage unfolded in the migrant shelter on Saturday afternoon, police report.
Police, who had promptly arrived at the scene, shot dead the assailant, who was identified in a police report as a 41-year-old Afghan national, a resident of the same shelter as his victims.
The police were alerted to the incident via an emergency call at about 16:50 local time. The caller said that the man had got hold of a boy and was attacking him with a knife. Before being neutralized, the perpetrator also injured the boy's mother, a 47-year-old Russian national, who was taken to the hospital with non-life-threatening injuries. Her other child, a six-year old boy, who was present at the scene at the time of the brutal attack, was deeply shaken but physically unharmed, police said. He was also brought to the hospital. A crisis intervention unit is attending to both child and mother at the hospital.
READ MORE: 'Massive encroachment on privacy': German MPs pass stringent new rules for asylum seekers
So far, it is not clear what prompted the attack, and police have launched an investigation.
"The investigation is at the very beginning," Bavarian state police said in a statement.
Meanwhile, the Russian Embassy in Germany said that it has been looking into the reports, along with the Russian consulate in Munich, of an attack in which Russian citizens might have been affected, the embassy's spokesman, Denis Mikerin, told RIA Novosti.
"At the present moment, we are working in cooperation with local law enforcement to establish if the victims have Russian citizenship. The report by police that the victims are of Russian origin is subject to verification," Mikerin said.
Police together with rescue services were dispatched to the scene in great numbers as the officers were dealing with the attacker, the head of a local rescue unit, Michael Daiminger, told the Mittelbayerishe newspaper. Seven ambulances and two helicopters were taking part in the effort.
Commenting on the incident, the head of the Arnschwang government, Michael Multerer, told the outlet he was shocked by the atrocity, noting that the authorities had no negative experience with the facility in the past. Multerer said the boys, whom he personally knew, have been living in the shelter for several years already, adding that both of them have since mastered good German. He described their mother as a quiet and a nice woman.
In the aftermath of the incident, police cordoned off the shelter and asked all its 18 residents, including three children, to vacate the premises. They are expected to be resettled in temporary accommodation
You can share this story on social media: