Several protesters reportedly killed in clashes with riot police in Kabul
Several protesters were reportedly killed and dozens of police injured when a rally in Kabul turned violent. The protesters had gathered to commemorate the victims of Wednesday's devastating truck bombing and demand that top Afghan authorities step down.
Read more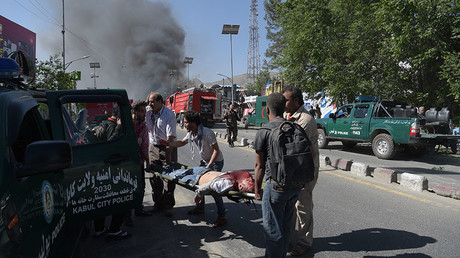 More than 1,000 people gathered in downtown Kabul on Friday to mourn the victims of a massive truck bomb that killed 90 and injured more than 450 on Wednesday. The protesters accused President Ashraf Ghani and Chief Executive Officer Abdullah Abdullah of failing to adequately deal with terrorism and demanded that they resign.
"The international community has to put pressure on them and force them to resign," Reuters quoted one woman going to the Friday rally as saying. "They're not capable of leading the country."
The protest promptly turned violent, as a group of demonstrators tried to cross a cordon and began to throw projectiles at riot police, who responded by firing warning shots into the air. To prevent the protesters from reaching the Presidential Palace, police used tear gas and water cannon to disperse the crowds.
While some riot police officers were carrying only batons and shields, others were armed with assault rifles and even machineguns.
"Some of [the protesters] were beaten by police with sticks and some others detained," a protester told AP. "This act of police and government proves that peaceful demonstration would not be useful anymore," he said.
GALLERY: Several protesters killed in clashes with police during Kabul rally
As the clashes grew increasingly violent, reports began to emerge claiming that people had been killed at the rally. The numbers given vary, however. Reuters reporting that a hospital official had said four were dead, while AP quoted MP Abdul Hafiz Mansur as saying that eight people had been shot by police. Meanwhile, Kabul's police chief, General Hassan Shah Froogh, said two protesters had been killed and 25 police officers injured.
Demonstrators were holding up photographs of those killed in the devastating attack on a diplomatic district in the Afghan capital on Wednesday – just day into the beginning of the holy month of Ramadan.
"We are calling on President Mohammad Ashraf Ghani to resign," a protester, whose relatives were killed in the truck bombing, told AP.
Oh gosh! How can they fire at the crowd; they should be able to relate to the frustrations having lost their colleagues on Wednesday https://t.co/NvHnll1n4Q

— Ruchi Kumar (@RuchiKumar) 2 июня 2017 г.
The protesters gathered near the scene of the Wednesday attack "to demand accountability and basically just protest the violent attacks," Afghan writer and journalist Ruchi Kumar, who witnessed the clashes between the police and protesters, told RT.
The police did not attempt to use anti-riot measures in order to defuse the tension, according to Kumar, and promptly began to fire "actual bullets" instead.
"[The protest] turned violent and the police did fire live rounds at the protesters," Kumar said. "The situation escalated very quickly, but who threw the first stone or who shot the first bullet has been unclear."
READ MORE: 'As long as US & NATO continue to stoke violence in Afghanistan, it's bound to increase'
Afghanistan's "security has deteriorated in a massive way" over the past few years, Afghan journalist Bilal Sarwary told RT.
"The question that everyone is asking in Kabul in this case is "Why so many failures? Why so many security and intelligence lapses that allow for this sort of terrorist attacks to take place?" Sarwary said.
The country experiences a "rapid loss of territory and soldiers" in regular sophisticated terrorist attacks, with people's "homes becoming [a] battlefield," he added.