'Kill female soldiers': Israel police probe anti-draft fliers in Ultra-Orthodox area of Jerusalem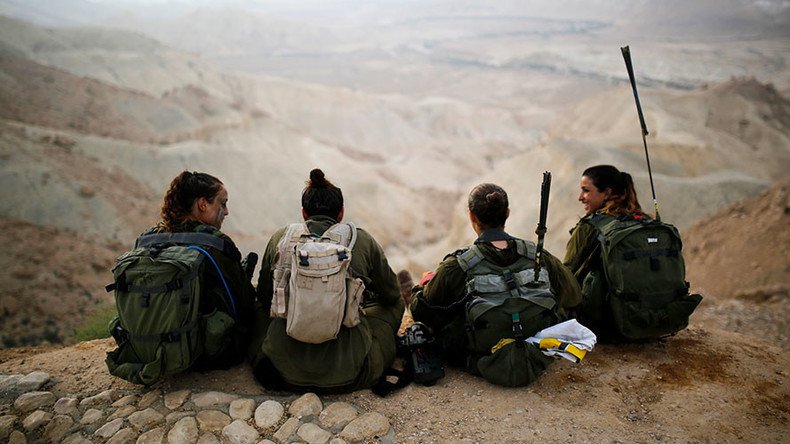 Israeli authorities have launched a probe into posters calling for the killing of female soldiers and IDF commanders who draft ultra-Orthodox Haredi Jews to the army, local media report.
The fliers were reportedly distributed in Mea Shearim, one of the oldest Jewish neighborhoods in Jerusalem populated mostly by Haredi Jews. Haredi is a collective notion for groups of ultra-Orthodox Jews who consider themselves most religiously authentic and reject modern secular culture.
"Take rifle & kill next woman soldier U see" reads flier against haredi IDF service. Police investigating but a lot of doubt its authentic.. pic.twitter.com/mym9alJjgc

— Jeremy Sharon (@jeremysharon) June 1, 2017
Written in Hebrew, the flier lays out instructions to Haredi youth who are drafted into the Israel Defense Forces (IDF).
"If they [IDF] take you by force to the army of destruction, you are permitted and must do all of the following things. Take the rifle you have received, kill every female soldier next to you and give her the privilege of killing her rather than letting her transgress," the flier said, as translated by Ynetnews.
"Kill every commander who keeps you by force; kill every recruiter, his seducer and accomplice. Kill yourself out of a decree to not transgress," the message adds.
The fliers have caught the attention of police, who said that they had applied for the State Attorney's Office to launch an investigation. Police, however, haven't confirmed the authenticity of the fliers yet.
"With the approval to open an investigation due to the seriousness of the things that were written and publicized, Jerusalem's local commander instructed the central unit to launch an investigation," a police statement said, as cited by Ynetnews.
On Thursday the IDF Spokesman's Office issued a statement condemning the leaflets, Arutz Sheva network reported.
"The call to kill soldiers and commanders in the IDF is serious incitement and crosses a red line. The IDF will continue to carry out its missions out of a commitment to the security of the state of Israel and its citizens."
People on social media have reacted with anger to the controversial fliers, calling them "sick" and "disgusting."
"Unbelievable Israel... Your own Jewish people," one person wrote, while another added: "Disgusting! 'Thou shalt not kill' - it is one of the Ten Commandments, what is wrong with these people, what religion do they observe?"
READ MORE: Fight erupts as ultra-Orthodox Jews try to disrupt Jerusalem Marathon (VIDEO)
Radical Haredi have recently launched a campaign against Haredi men serving in the IDF, saying that Israeli authorities are trying to eradicate their religious identity, according to the Jerusalem Post newspaper.
These anti-IDF campaigns include mass protests, blocking traffic and demonstrations in front of the houses of IDF senior officials. The activists distribute fliers, posters, pamphlets and other forms of written material, calling on Haredis not to serve in the army.
READ MORE: Womanless Israeli IKEA catalog designed for ultra-Orthodox Jews draws criticism
The most recent protest took place in May before the Shavuot festival in Jerusalem's Haredi Shmuel Hanavi neighborhood when several Haredi radicals attacked Haredi men in IDF uniforms.
You can share this story on social media: