Israeli army sex crimes: Social media blamed for dramatic rise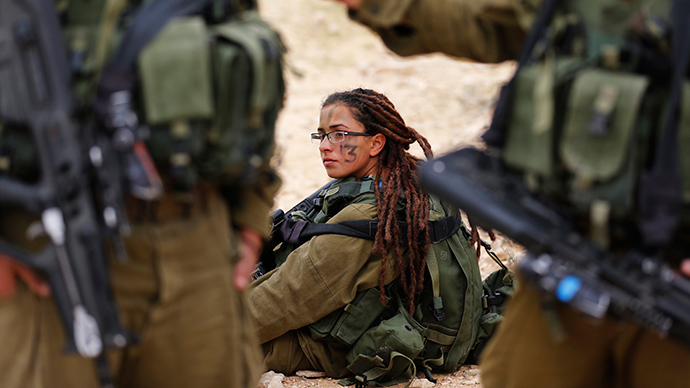 Israel is fearful of the effect social media use is having on its armed forces: incidence of sex crime allegations in the military has doubled since 2012, involving everything from privacy and battlefield security breaches to full-on sexual assault.
"This is a very troublesome phenomenon, and soldiers don't understand how grave it is," chief military prosecutor, Colonel Udi Ben-Eliezer, told the official military journal Bamahane, as cited by Reuters. "The telephone is easily available, and therefore the crime becomes very easy to do."
The vast majority of cases center around instant messaging apps. They go a long way toward facilitating privacy infringement – the unwarranted sharing of incriminating photographs alone comprising 35 percent of the transgressions, according to the journal.
More seriously, a soldier photoshopped a female comrade's face onto a nude body, and threatened to disseminate it unless she had sex with him. Another example involved a soldier, phone at the ready, snapping away at female soldiers taking showers.
Not that female soldiers aren't up for a bit of fun as well: they've been posting semi-nude pictures of themselves, complete with combat gear.
Racism has also been an issue.
WhatsApp, one of the most popular messaging services, is also a big hit with the Israeli armed forces. Brigadier-General Sima Valnin-Gil said this had been a huge topic of discussion during last summer's Protective Edge operation in Gaza: soldiers texting was described as a grave security risk.
"Do I think WhatsApp is liable to be an acute problem in the future? Yes, unequivocally," she said last summer, according to Reuters. Before the problem was considered in earnest, Vaknin-Gil foresaw possible consequences.
A potentially more grave offense than posting pics of yourself is posting the names of your dead victims before their next of kin find out – that's another crime soldiers have been accused of. To the Israeli military command, this is both a security and humanitarian problem.
But how does one control what one sends and receives? Vaknin-Gil believes this to be impossible, so only cautionary measures are being taken at this point, while additional ones are debated.
"First of all, it's not under my aegis," she continued. "Secondly, you would have to expand the body called censorship dozens of times over in order to handle all of the existing WhatsApps groups."
You can share this story on social media: