Kiev names street after Nazi collaborator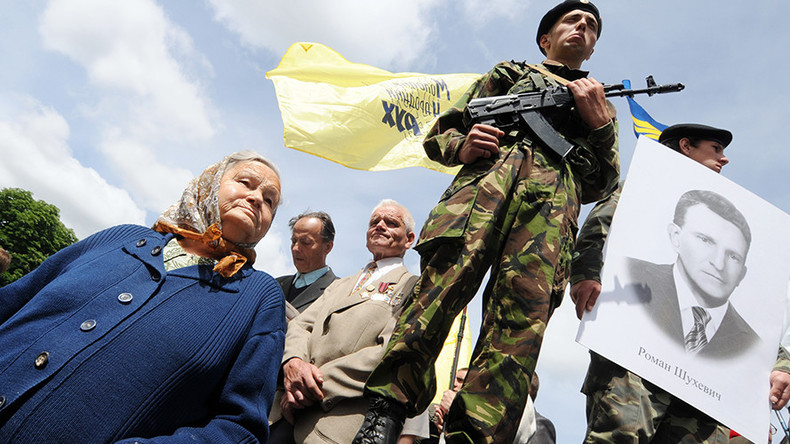 Kiev's city council has renamed one of the city's major streets after Roman Shukhevich, a Ukrainian nationalist and Nazi officer who was commander of a radical militia responsible for mass murdering Jews and Poles during the World War II.
The decision was taken on Thursday, with 69 legislators voting in favor. An attempt to push the renaming through the same council failed last December, when it won only 41 votes. This time, the bill's sponsors managed to collect the 61-vote benchmark needed to pass the draft into law.
Shukhevich is a controversial figure in Ukrainian history. Born in what is now western Ukraine, he joined the ranks of a radical, nationalist group called the Ukrainian Military Organization in 1925, when his homeland was part of Poland. In the late 1920s and early 1930s, he was involved in killing a number of Polish officials and ethnic Ukrainians that the organization considered to be collaborators.
In 1935, he and some of his fellow terrorists were caught, and Shukhevich was handed down a prison sentence that he served until 1937.
In 1941, Shukhevich became commander of the Nachtigall Battalion, a Nazi German unit formed from Ukrainian nationalists drafted to fight the Soviet Union. According to some accounts, the unit was involved in pogroms in the city of Lvov in late June of 1941, though those allegations are disputed.
The unit was finally recalled and disbanded because its Nazi superiors disapproved when the nationalists declared an independent Ukrainian state allied with Germany with Lvov as its capital. However, Shukhevich continued his service in Belarus as a Nazi company commander in Nachtigall's successor, Schutzmannschaft Battalion 201, which was used for guard duty, sweeping woods for partisans, and rounding up the Jewish population.
In 1942, when the troops in the battalion refused to renew their contracts, Shukhevich reportedly dodged arrest by the German authorities and became a prominent commander in the Ukrainian Insurgent Army (UPA), the paramilitary wing of Stepan Bandera's extremist faction, the Organization of Ukrainian Nationalists (OUN). UPA was responsible for the mass murder of Jews and Poles in the regions of Volhynia and Eastern Galicia. The death toll from their activities is estimated in the tens of thousands.
Shukhevich rose through the ranks to eventually become UPA's leader. He led a nationalist insurgency in post-war Ukraine until 1950, but reportedly committed suicide before being apprehended by Soviet counterinsurgency troops.
After the collapse of the Soviet Union, independent Ukraine began to rehabilitate and even venerate Ukrainian nationalists of the past, regardless of how bloody their hands were. Shukhevich was even awarded the title 'Hero of Ukraine' in 2009 by then-President Viktor Yushchenko, but the act was annulled by a court amid the ensuing scandal. The decision also marred Yushchenko's visit to Israel, where it was condemned by the Yad Vashem Holocaust museum.
"The units he commanded, supposedly fighting for Ukrainian independence, committed large scale murder during the war. He was a war criminal," Yad Vashem's director, Avner Shalev, wrote at the time.
READ MORE: Ukrainian сourt rules against Nazi collaborators becoming heroes again
The street that is now to be named after Shukhevich was previously called Vatutin Prospect after Nikolay Vatutin, a general who commanded the Red Army's 1st Ukrainian front and died in 1944 when his car was ambushed by UPA fighters.
The renaming was praised by Shukhevich's son Yury, a member of the Ukrainian parliament who was present at the city council session.
By removing Vatutin's name in favor of his father's, Ukraine had got rid of another "mole of Bolshevism," he said, according to Liga news website.