Ukrainian сourt rules against Nazi collaborators becoming heroes again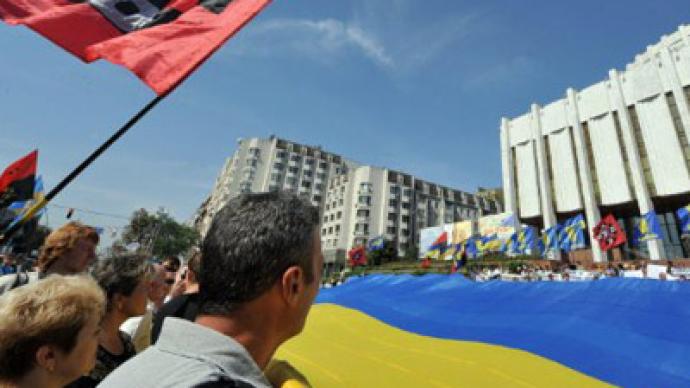 Ukraine's Supreme Administrative Court has refused an appeal by former president Viktor Yushchenko to review a decision to strip two Ukrainians known to have collaborated with the Nazis of the title of hero.
The ruling on Ukrainian nationalists Stepan Bandera and Roman Shukhevich, cannot be reversed, according lawyer Vladimir Olentsevich, who has been involved in the case and who broke the news on Friday.  "The appeal by our opponents has been turned down by three courts. The Supreme Administrative Court has the right to allow or not to block an appeal to the Supreme Court. It hasn't allowed," the lawyer explained to journalists. "So the chapter is closed, Bandera and Shukhevich are not heroes on a state level." The honoring of Stepan Bandera was one of the last presidential decrees by Victor Yushchenko in 2007. The move was condemned by the European Union, Poland and Russia, as well as a number of Jewish organizations around the world.Vladimir Olentsevich was one of those who initiated a court case against Yushchenko's decision to posthumously honor the nationalists. Last year, a Donetsk court found the decrees illegal. The former president then filed a complaint to the Supreme Administrative Court, which has now been turned down. Ukraine remains divided on the nationalist issue and the events of the Second World War. Nationalism has traditionally been strong in the west of the country. In eastern Ukraine, the glorification of such figures as Bandera and Shukevich and the Ukrainian Insurgent Army has always prompted protests. On Friday, nationalists held a march in the capital, Kiev, in honor of the 69th anniversary of the creation of the Ukrainian Insurgent Army. They also passed a letter to the administration of President Viktor Yanukovych demanding that monuments be erected to Bandera and Shukhevich, as well as to Ivan Mazepa, one of the first proponents of Ukrainian independence.In response, local Communists organized a rally protesting against the "falsification of history." Stepan Bandera was leader of the Organization of Ukrainian Nationalists (OUN) which collaborated with Nazi Germany during World War II. The OUN was involved in terrorist acts against civilians who opposed a national Ukrainian state, as well as in ethnic cleansing of Poles and Jews in western Ukraine. Roman Shukhevych commanded the Ukrainian Insurgent Army (UPA), a military wing of the Organization of Ukrainian Nationalists from 1943 till 1950. Between 1941 and 1943, he also served in the armed units of the Third Reich as a deputy commander of Nachtigall, a Wehrmacht unit accused by historians of mass killings of Jews and Poles.
You can share this story on social media: