Pilot error likely to blame for Tu-154 Sochi crash – official commission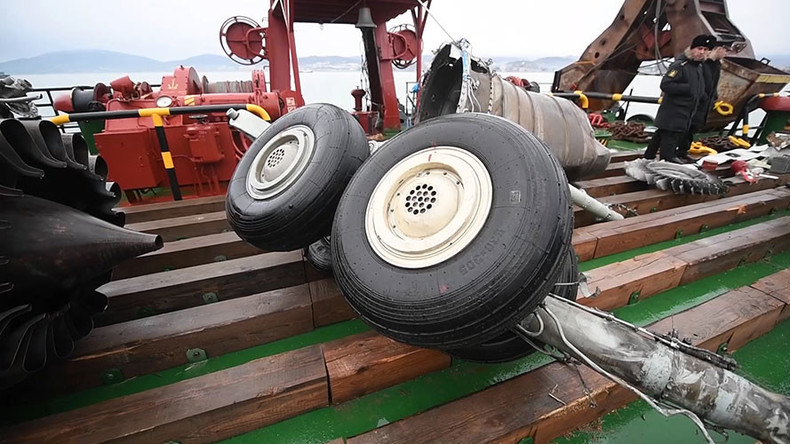 The captain of the Tu-154 military plane headed for Syria that crashed near Sochi last December probably lost his bearings and caused the accident that killed 92 people, the official investigative commission has concluded.
"It has been established that the cause of the accident could have been the loss of spatial orientation by the captain of the aircraft, which led to errors in his interactions with the plane controls," said the summary of the investigation, which was jointly conducted by the Defense Ministry, the Transport Ministry, the Trade Ministry and aircraft manufacturer Tupolev.
READ MORE: Tu-154 crash probe: No onboard explosion, main recovery phase over
Investigators rejected other potential causes of the crash that killed 64 members of the world-famous Aleksandrov Ensemble Choir, which was due to perform for Russian troops stationed in Latakia in Syria.
"The procedures for refueling the plane in Sochi airport were not broken, and no outside factors have been detected," said the commission, referring to speculation that the plane was downed in a terrorist attack.
"No violations for existing requirements for the seating of passengers, or the load mass and distribution of cargo were found," added the authors, refuting another popular media theory that the Tu-154, which had been in operation since 1983, had been overloaded.
The aircraft departed from Sochi Airport at 5:25am local time on December 25, and after rapidly attempting to gain altitude crashed into the sea minutes after take-off, just 6 kilometers from the airstrip.
Following a search and rescue operation involving more than 40 vessels, the remains of the aircraft were found in a highly fragmented state. The two on-board flight recorders were retrieved in good condition, and subsequently decrypted.
The captain of the 8-person crew was the experienced, 35-year-old military pilot Major Roman Volkov, who had over 3,000 flight hours, according to his commanders. He made numerous trips to Syria in the months and weeks prior to the fatal flight.
But according to reports in multiple Russian media outlets, which claimed to have access to the leaked full text of the investigation, the crew, which was combined from two different squadrons and did not know each other well, were "worn out" by a tight schedule of shuttle flights to the Middle East. Furthermore, not all pre-flight status checks on the personnel were completed in compliance with regulations.
Russian forces have been in Syria since September 2015, at the request of the country's president, Bashar Assad, operating out of a brand-new base constructed in Khmeimim, in the northwest of the country.