Tu-154 crash probe: No onboard explosion, main recovery phase over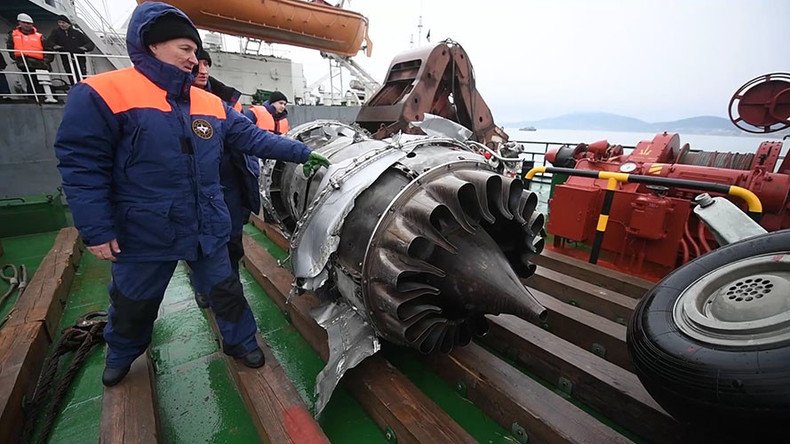 A full investigation into the reason a Russian Tu-154 plane crashed into the Black Sea will take some time, but preliminary results have ruled out an onboard explosion, investigators told the media on Thursday after scaling down the recovery operation.
"It is apparent that the equipment didn't work as intended. What caused this is for the experts to establish. A technical commission has been created to do this work. Preliminary results may be available in January 2017," Transport Minister Maksim Sokolov, who heads the state commission handling the crash, said during a media briefing in Moscow.
Sokolov's comments somewhat contradicted those of General Lieutenant Sergey Bainetov, the chief of the Russian Defense Ministry's Flight Safety Service, who said that data from the first flight recorder recovered from the crash site hadn't pointed to any obvious technical failure.
Responding to a journalist's question, Bainetov stressed that there was no evidence that an explosion had occurred on the plane.
Sokolov concurred that a more detailed technical analysis was necessary before coming to any conclusions.
The minister said that a preliminary report would not be made public until all of the transcripts recovered from the flight recorders have been analyzed. He also asked the media to refrain from speculation or reporting unconfirmed information regarding the investigation.
Sokolov and other members of the commission were updating the public on the commission's work so far. The main search and recovery operation in the Black Sea has now been wrapped up and the focus has shifted to identifying recovered bodies and establishing the causes for the crash, which claimed 92 lives.
Rescuers have found 19 bodies and over 230 body parts at the crash site in the Black Sea off Sochi. Identification of those remains will require extensive DNA testing. Gene samples have been taken from the crash victims' relatives, and testing is already underway, Sokolov said.
Divers managed to lift 13 large fragments of the Tu-154 from the sea, as well as to collect almost 2,000 smaller ones. The plane was heavily damaged by the impact with the water, the minister said, adding that specialists believe that enough fragments have been recovered to determine the cause of the crash.
Bainetov commented on a media report which claimed that the last words heard in the cabin of the doomed plane were "the flaps, damn it!" The defense official wouldn't comment on the accuracy of the leaked information, but he did say that, even if the information was true, it would not necessarily mean that the flaps were the cause of the crash.
Bainetov said that the Tu-154's last flight was only 70 seconds long. It climbed to about 250 meters and flew at a speed of 360 to 370 km/h before plunging into water.
You can share this story on social media: