Underwater footage shows divers recovering wreckage of crashed Tu-154 from seabed (VIDEO)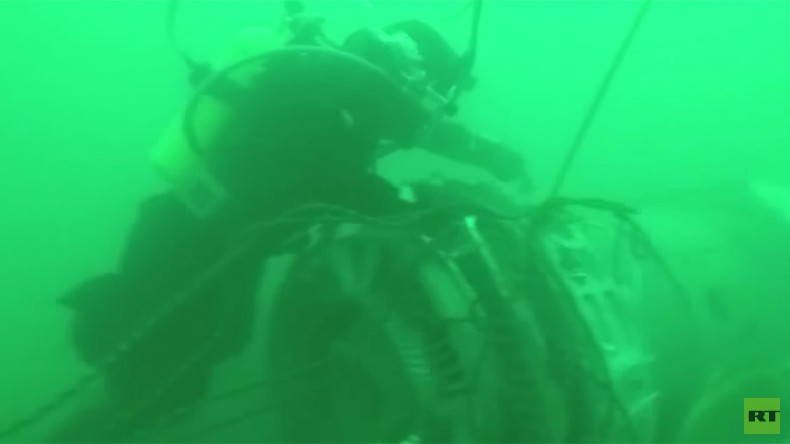 Underwater footage released by Russian Emergencies Ministry shows diving teams recovering plane debris from the crash site of the Tu-154 airliner that plummeted into the Black Sea, killing eight crew and 84 passengers on board.
The ministry's divers are seen on the video attaching the airplane fragments to a rescue crane deployed to recover the debris.
Over the past day, divers of the 'Lider' high-risk rescue unit, as well as the regional emergency response unit, went underwater more than 30 times, retrieving large and small fragments of the Tu-154 fuselage, the ministry said in a statement on Wednesday.
The large-scale search operation is currently in full swing in the Black Sea, featuring more than 3,600 personnel, 45 vessels, 15 planes and 16 helicopters as well as surveillance drones. Several unmanned underwater vehicles, including the Sub Fighter-7500 and the Falcon, were also dispatched to the rescue efforts, according to RIA Novosti.
Main black box of crashed Tu-154 found at depth of 17 meters – Russian MoD

Russia's security services said that more than 1,500 plane fragments from the jet have been found at the crash site, according to TASS. At this point, rescuers have also recovered 13 bodies and 223 body parts so far, a search and rescue operation source told the news agency.
As of Wednesday, two black boxes of the doomed aircraft have been recovered, with one of them being already examined at a Russian Air Force research center on the edge of Moscow. So far, a technical failure and pilot error are the main theories as to the cause of the crash, while a terrorist act was all but ruled out.
The Defense Ministry's Tu-154 crashed over the Black Sea on Sunday en route to Russia's Syrian military base Khmeimim. The aircraft went missing over the Black Sea shortly after refuel stop at an airport near Sochi.
You can share this story on social media: