'The flaps, damn it!' Last words of doomed Tu-154 flight crew leaked to media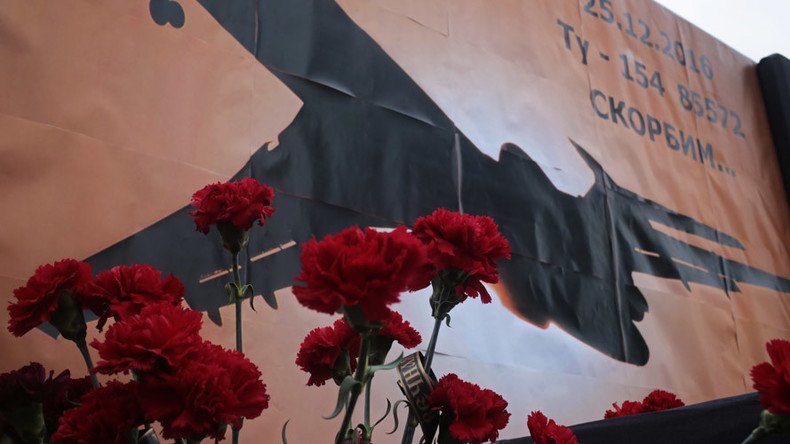 Investigators are analyzing the contents of the crashed Tu-154's black box, which reportedly includes a recording of the cockpit in the crew's final moments. A source close to the investigation told Life News of the exact final words uttered there.
In the final recording of the cockpit before the crash the pilot can be heard yelling "the flaps, damn it!" followed by "Commander, we're going down!" according to Life News, citing its source.
That has not however been officially confirmed.
All the Russian Defense Ministry has said so far is that the data obtained from the flight recorder allows the causes of the plane crash to be narrowed down.
Earlier, Russian Transport Minister Maksim Sokolov said that the recovered black box measured the technical parameters of the plane and did not contain voice recordings.
Tu-154's main flight data recorder was salvaged 17 meters below the surface of the Black Sea earlier on Tuesday, and its contents are now being decoded at the Ministry of Defense's Air Force Research Center on the outskirts of Moscow.
Several theories have been put forward for the crash. A source earlier told TASS that one of the key theories as to why the plane crashed "is that foreign objects penetrated the engine," adding that other possible causes, such as pilot error and technical failure, are also being investigated.
According to a source close to investigation speaking to Interfax, initial readings from the black box appear to confirm the pilot error story.
"The preliminary analysis of the flight recorder is complete," said the unnamed source.
"It leads us to conclude that that the version of the catastrophe connected to mistakes made by the pilot of the aircraft, is the main version."
Two more black boxes have also been located but not yet raised from under water, a source told RIA.
Authorities are also speaking to witnesses, including a person who filmed the plane's takeoff, flight and subsequent crash into the sea, the Russian Investigative Committee said in a statement.
The Russian Defense Ministry's Tu-154 plane disappeared off the radar and fell into the Black Sea minutes after takeoff from Sochi's airport on Sunday, killing all 92 people on board. The plane was en route to Latakia, Syria, transporting 64 members of the world-famous Alexandrov Ensemble army choir, humanitarian workers and several media crews to take part in Christmas and New Year's celebrations.
The head of the choir, conductor and composer Valery Khalilov, as well as revered Russian humanitarian and charity activist Elizaveta Glinka (popularly known as Dr. Liza) were among the victims of the crash.
On Monday, Russians observed a nationwide day of mourning for the victims of the catastrophe.
You can share this story on social media: