'Jihadist drug': 137kg of psychostimulant seized at French airport, partly bound for Saudi Arabia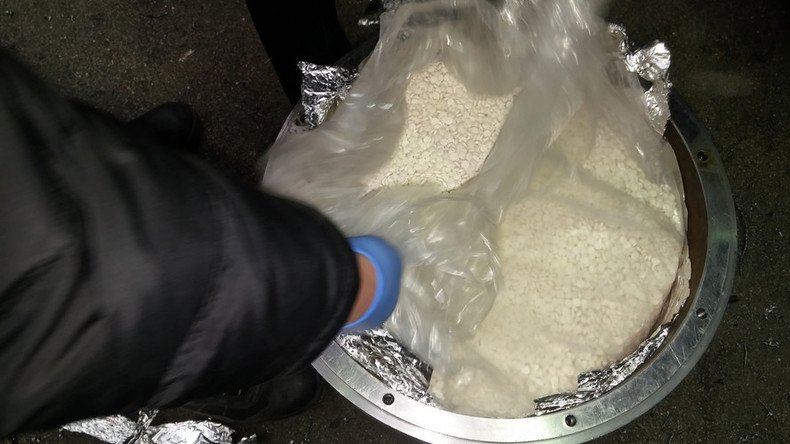 At least 137kg of Captagon, dubbed a "jihadist drug" and "the drug of the Syrian conflict," was seized at Paris Charles de Gaulle Airport in a first for France, customs officials said, adding that half of the illicit cargo was destined for Saudi Arabia.
The drug was seized in January and February this year, the Directorate-General of Customs and Indirect Taxes, a French law enforcement agency, said on Tuesday.
READ MORE: Italian police seize 37 tons of drugs designed for ISIS in Libya
"This is the first time this drug has been seized in France. The value of the goods is estimated at around €1.5 million on the illicit market," the statement said.
According to the customs services website, Captagon is a psychostimulant created in the late 1950s and now mainly consumed in the Middle East.
In January, customs officers at Charles de Gaulle Airport intercepted two industrial molds coming from Lebanon and destined for the Czech Republic.
"The drug was actually concealed [inside] the molds... In total, [customs officers] extracted some 350,000 pills with a total weight of 70kg," the statement added.
France then launched an investigation together with the German and Czech authorities. It later appeared that the cargo was actually destined for Saudi Arabia, passing via Turkey.
A second batch of the "jihadist drug" was seized at the airport in February in a cargo heading from Lebanon to Africa.
"The [customs] agents [seized] 67kg of Captagon pills concealed… inside steel molds," the statement added.
READ MORE: Saudi prince arrested on private plane with 2 tons of drugs - reports

Captagon, an amphetamine-type stimulant, is widely distributed in the Middle East, according to the UN Office on Drugs and Crime.
The drug is currently used by jihadists in several Middle Eastern war zones to enhance battle performance, according to various reports.
Captagon increases blood pressure, heart rate and alertness, Carl Hart, professor of psychology and psychiatry at Columbia University, told the Live Science website. Hart, however, dismissed the media claims that the drug can turn users into "supersoldiers."
You can share this story on social media: