India's army chief defends soldier who used man as human shield against stone-throwers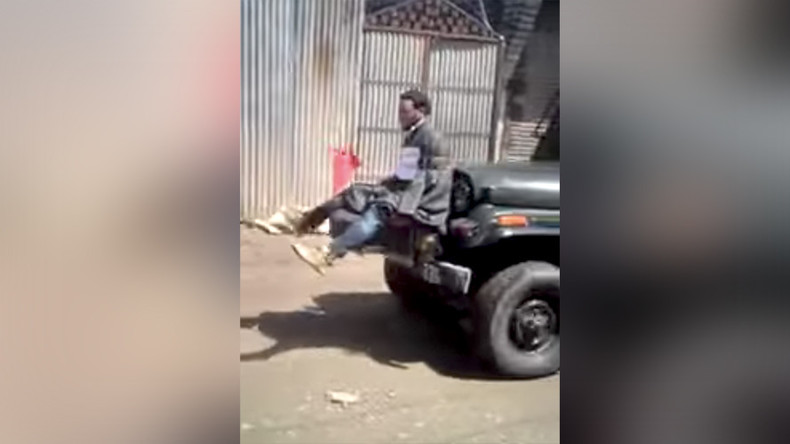 India's army chief has defended a soldier who tied a Kashmiri man to his 4x4 to deter stone-throwing demonstrators, claiming that "innovations" are required to fight the "dirty war" in Kashmir.
Major Leetul Gogoi tied 26-year-old Farooq Ahmad Dar to his jeep last month, using him as a human shield and a warning against stone-throwers.
READ MORE: Indian Army accused of using Kashmir man as human shield (VIDEO)
Dar says he was attempting to return home after casting his vote in a local by-election, when passing by an area where people were throwing stones at soldiers.
He says he was beaten and tied to a spare tire on the hood of the vehicle before being driven through neighboring villages for up to five hours.
A video of the incident went viral, in which a soldier can be heard telling villagers: "This will be the fate of people who throw stones."
The footage prompted human rights activists across the globe to express their disapproval, with Amnesty International calling the treatment of Dar "cruel, inhumane, and degrading."
But while Gogoi faced widespread condemnation, India's chief of army staff, Gen. Bipin Rawat, was apparently full of praise for the soldier.
In fact, he awarded Gogoi a commendation medal, even as a court of inquiry was investigating the incident. Rawat claims the award was aimed at boosting the morale of soldiers fighting in Kashmir, according to the Press Trust of India (PTI).
Speaking to PTI, Rawat defended Gogoi's tactic, saying that "innovations" are necessary when fighting a "dirty war."
READ MORE: Indian Army OKs release of Kashmir 'surgical strike' videos
"This is a proxy war and proxy war is a dirty war. It is played in a dirty way. The rules of engagements are there when the adversary comes face-to-face and fights with you. It is a dirty war… that is where innovation comes in. You fight a dirty war with innovations," Rawat said.
Rawat said that Gogoi could have opted for firing at the crowd, but instead chose not to do so.
"I wish these people, instead of throwing stones at us, were firing weapons at us. Then I would have been happy. Then I could do what I [wanted to do]," he said, declining to elaborate.
Following Rawat's comments, the executive director of Human Rights Watch, Kenneth Roth, tweeted that the army chief had supported the use of human shields.
Rawat also described the ongoing conflict in Kashmir, saying: "People are throwing stones at us, people are throwing petrol bombs at us. If my men ask me what do we do, should I say, just wait and die? I will come with a nice coffin with a national flag and I will send your bodies home with honor…"
"Is that what I am supposed to tell them as chief? I have to maintain the morale of my troops who are operating there," he said.
Kashmir has been the subject of heated disputes between India and Pakistan for decades. Both control part of the region, while claiming sovereignty over all of it. Separatist movements in the Indian-controlled section want Kashmir to be granted independence or be absorbed into Pakistan.