Philippines' death toll tops 100 as besieged ISIS-linked terrorists execute 'betrayers' (GRAPHIC)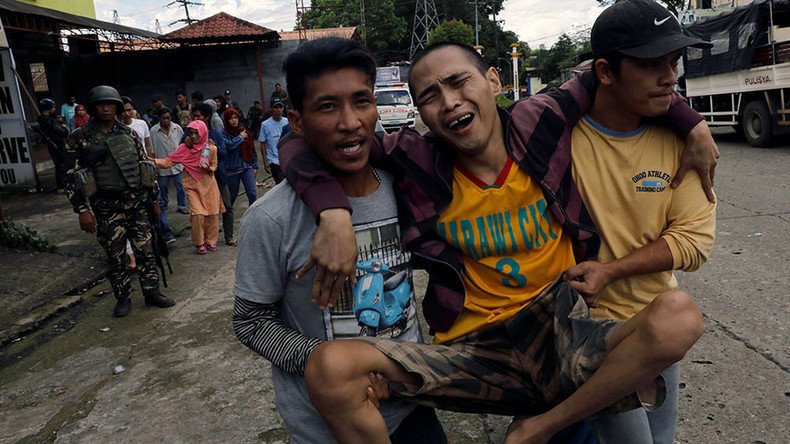 The death toll in the Philippines city of Marawi has exceeded 100 people, including at least 27 civilians and 61 terrorists, while 2,000 people reportedly remain trapped as ISIS-linked Maute militants mercilessly kill "betrayers" who try to flee the city.
At least 27 civilians have been killed in Marawi since Maute fighters, aligned with Islamic State (IS, formerly ISIS/ISIL), raided the city last Tuesday.
This figure includes the latest victims – eight males, whose bodies were discovered with gunshot wounds to their heads on a roadside in the outskirts of Marawi on Sunday. According to locals, the victims were civilians who worked at a rice mill and a medical college and had attempted to flee the city.
A signed note attached to one of the men indicated that the victims had "betrayed their faith," police officer Jamail Mangadang told the Philippine Star.
In another discovery, the bodies of four men, three women and a child were found on Saturday near a university in the city.
"These are civilians, women. These terrorists are anti-people. We found their bodies while conducting rescue operations," regional military spokesman Lieutenant Colonel Jo-ar Herrera said, according to Manila Standard.
In addition to the civilian casualties, Military spokesman Brig. Gen. Restituto Padilla said a total of 11 soldiers and four police officers have been killed since the fierce fighting erupted last Tuesday.
The military says it has killed at least 61 Maute fighters, bringing the total death toll to over 100 people.
The militants seemed significantly weakened by the ongoing military operation and are showing less resistance, but still pose grave danger to locals, Padilla said.
"We believe they're now low on ammunition and food," he said. "Compared to the initial days, there has been increasingly less resistance from the militants within Marawi."
In tandem to the military onslaught, the army was also carrying out rescues operations, freeing civilians trapped in jihadist-held areas and bringing them to safety.
"We have successfully rescued and assisted 124 trapped civilian residents since the start of the operations," Padilla said.
President Rodrigo Duterte declared martial law across the southern part of the Philippines after IS-linked militants stormed the city last Tuesday.
Most of the predominantly Muslim city's 200,000 residents have fled since the fighting began, but an estimated 2,000 people still remain cornered in areas controlled by the militants.
"They have been sending us text messages, calling our hotline, requesting us to send rescue teams but we cannot simply go to areas which are inaccessible to us," said Zia Alonto Adiong, spokesman for the provincial crisis management committee.
"They want to leave. They are afraid for their safety. Some are running out of food to eat. They fear they will be hit by bullets, by airstrikes," he added.
The military intensified its air campaign on parts of Marawi over the weekend as ground troops engaged in street battles with the militants.
Philippines government officials also said that the Maute group confronting the army was no longer considered a local terrorist organization as many Malaysian, Indonesian and "other nationalities" have joined their ranks.
Driving out terrorists from the Philippines has become Duterte's personal crusade who promised to resign if extremists prove him incapable of maintaining peace in his country.
"As president, if I cannot confront them, I will resign," Duterte said last week. "If I am incompetent and incapable of keeping order in this country, let me step down and give the job to somebody else."
You can share this story on social media: