Philippines crisis 'transmogrified into invasion by foreign terrorists'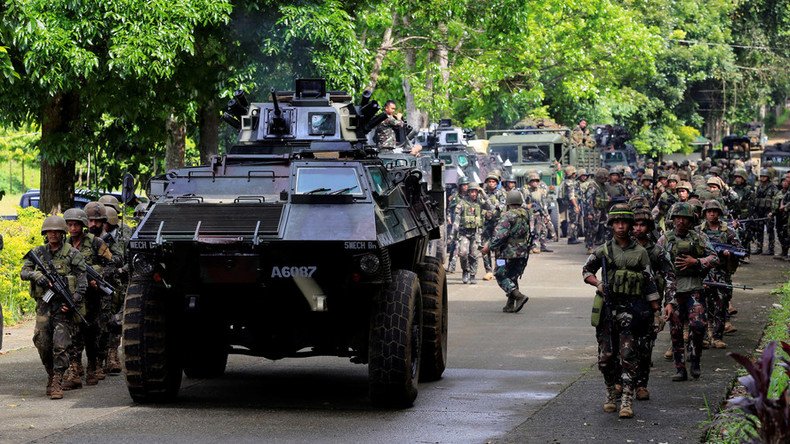 The Maute group confronting the Philippine army in Marawi City is no longer considered a local terrorist organization as it has been reinforced by jihadists of Malaysian, Indonesian and "other nationalities," the country's authorities have announced.
"Before it was just a local terrorist group. But now they have subscribed to the ideology of ISIS. They want to make Mindanao as part of the caliphate," Solicitor General Jose Calida told a news conference, according to Reuters.
READ MORE: Russia & Philippines sign defense cooperation agreement, reaffirm unity against terrorism
He added that Indonesians and Malaysians are among the Islamist radicals who are fighting the army. Meanwhile, an army spokesman said six foreigners were killed in Mindanao on Thursday, including militants of Malaysian, Indonesian and "other nationalities."
"What's happening in Mindanao is no longer a rebellion of Filipino citizens" but "has transmogrified into an invasion by foreign terrorists who heeded the clarion call of the ISIS to go to the Philippines if they find difficulty in going to Iraq or Syria," Calida added, as cited by InterAksyon news.
The terrorist group is aiming to create an Islamic State "province" in Mindanao and will target anyone to achieve their objective, Calida warned.
"People they consider as infidels, whether Christians or Muslims, are also targets of opportunity," he said. "What it worrisome is that ISIS has radicalized a number of Filipino Muslim youth."
On Thursday, Philippines' Western Mindanao Command (WESMINCOM) announced that, since Tuesday, at least 31 fighters of the IS-linked Maute group were killed in Marawi City.
"As of this report, 31 terrorists were already neutralized and 6 high-powered firearms were recovered by the troops," said Brig. Gen. Rolly Bautista, head of Joint Task Force ZamPeLan.
At least 13 government troops and police officers lost their lives since Tuesday.
"Our troops are doing deliberate operations in areas we believe are still occupied or infested with the terrorists' presence. I specifically ordered our soldiers to locate and destroy these terrorists as soon as possible," Bautista added.
On Tuesday night, President Rodrigo Duterte placed the entire island of Mindanao under martial law for 60 days after battles between government troops and the Maute in Marawi escalated. On Wednesday, Duterte warned that he will not hesitate to declare martial law throughout the entire country if terrorism spills beyond Mindanao.
The Philippines leader also promised to resign if extremists prove him incapable of maintaining peace in his country.
"As president, if I cannot confront them, I will resign," Duterte said Wednesday. "If I am incompetent and incapable of keeping order in this country, let me step down and give the job to somebody else."
You can share this story on social media: