'I will not listen to others': Duterte on concerns over martial law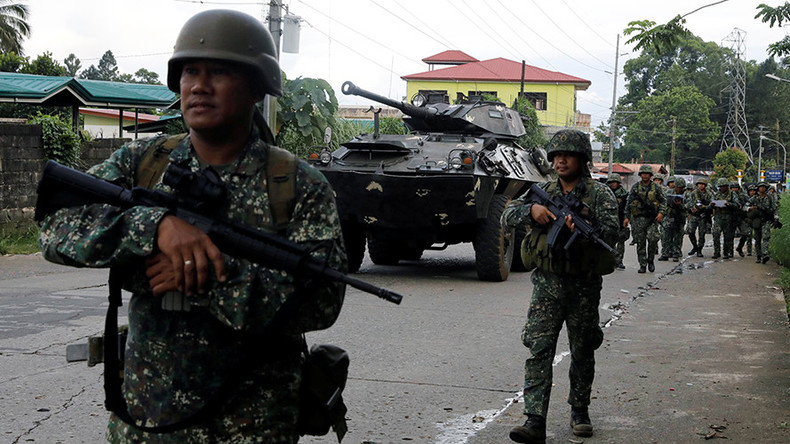 The president of the Philippines says martial law will remain in place until the military confirms the country is safe. It comes as lawmakers voice concerns about the legality of the step amid the fight against militants in the country.
"Until the police and the armed forces say the Philippines is safe, this martial law will continue. I will not listen to others. The Supreme Court, congress, they are not here," Philippines President Rodrigo Duterte told soldiers on Saturday, as cited by AFP.
President Duterte proclaimed martial law on the southern island of Mindanao, where fighting has been raging between government troops and insurgents from a local ISIS-linked group since Tuesday.
The violence gripping Marawi, a militant hotbed, prompted Duterte to impose martial law for 60 days, with a subsequent warning that he would extend it to the entire country if necessary.
However, the decision triggered concerns among many, including a number of Philippines lawmakers.
"He's conditioning the minds of Filipinos that martial law is OK – no, that's an extreme option," Senator Antonio Trillanes IV said, as cited by the local Philstar.
Another senator, Franklin Drilon, said he does not see any basis for Duterte to extend martial law to the entire country.
Duterte remains adamant, saying, "Are they the ones dying and losing blood, bleeding, hemorrhaging because there is no help, no reinforcement? It's not them."
According to National Union of People's Lawyers (NUPL) head Ephraim Cortez, the Marawi onslaught does not "justify the shotgun declaration of martial law." He added the move "should be an option of last resort."
Given the abuses which took place during the military rule of Ferdinand Marcos, the 1987 constitution imposes restrictions on martial law. It empowers the Supreme Court to overrule martial law, as well as requiring the president to get congressional approval to implement the decision to extend it.
"The Supreme Court will say they will examine into the factual (basis). Why I don't know. They are not soldiers. They do not know what is happening on the ground," Duterte said.
Last Friday, Duterte also said that searches and arrests can be carried out without any warrants. "During martial law, your commanders, you, you can arrest any person, search any house. There is no more warrant needed," he said.
That contradicts a government statement issued the following day, which said that "no person can be detained or put under arrest without orders coming from these civil courts," AFP reports.
However, Supreme Court Chief Justice Maria Lourdes Sereno said the country "might reap the benefits of the legitimate use of the provisions on Martial Law in the 1987 Constitution," while addressing students at Ateneo de Manila University on Friday.
"When properly implemented, this (martial law declaration) should not by itself unduly burden our country," she said.
As the siege of Marawi entered its sixth day on Sunday, the combined number of dead on both sides rose to 100, according to AP. Around 20 civilian casualties, including three women and one child, have been reported so far. According to military spokesman Brig. Gen. Restituto Padilla, 61 militants, 11 soldiers, and four police officers have been killed.