Philippines crisis: Duterte declares martial law on Mindanao in face of ISIS-linked onslaught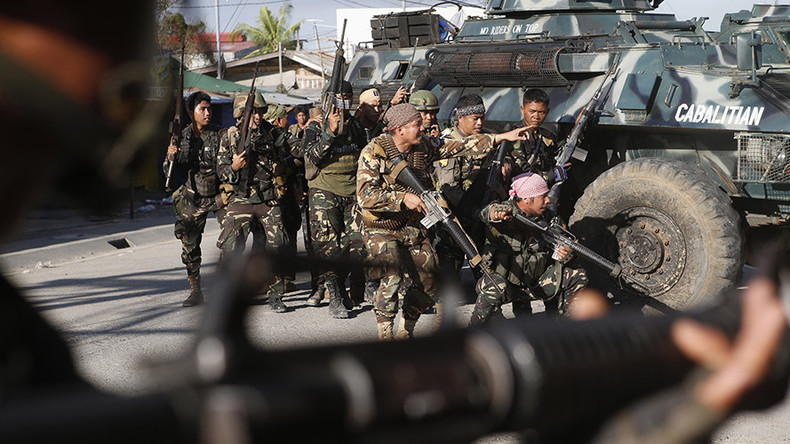 Militants affiliated with Islamic State are vying for control of the city of Marawi in the Philippines. President Rodrigo Duterte put the island of Mindanao under martial law, ordered in special forces and cut short his state visit to Russia.
Islamist-extremist insurgents from the Maute group are engaging government forces in firefights and the area, which boasts a population of 200,000, is now on lockdown, according to Philippines authorities.
READ MORE: 'West is just double talk, I want more ties with Russia & China' – Duterte
Local reports indicate the militants have established checkpoints in the city.
Facebook posts by Marawi residents depict photos of fighters, clad in black, moving through streets while heavily armed. Local media reports the Islamic State (IS, formerly ISIS/ISIL) flag flies over a medical center while other residents are tweeting that buildings have been set ablaze and roads blocked.
President Duterte declared martial law for a 60-day period. Authorities have asked the public not to share any information which could "compromise operational security."
A government official said in a press conference Tuesday that the whole of Marawi city has been blacked out with snipers patrolling the streets as government troops continue to engage with the insurgents.
Duterte is cutting short his state visit to Moscow to return to the Philippines.
Eyewitnesses have reported that the Maute group,who are also known as the Islamic State of Lanao, have set fire to a jail and a college in the city.
Earlier on Tuesday Reuters reported that five Philippine soldiers were wounded when they raided an apartment housing militants.
Army spokesman, Lieutenant Colonel Jo-ar Herrera, said the military was acting on information that Isnilon Hapilon, a leader of the Abu Sayyaf rebel group, was among the militants hiding in the apartment.
The US State Department has a bounty of up to $5 million for Hapilon's arrest.
Late last month Philippines security forces claimed they killed 36 Maute fighters and captured the rebels' base during a three-day operation.
You can share this story on social media: