'Guided rockets' used during op targeting ISIS-linked militants in besieged Philippines city
Published time: 27 May, 2017 15:58
Edited time: 28 May, 2017 08:29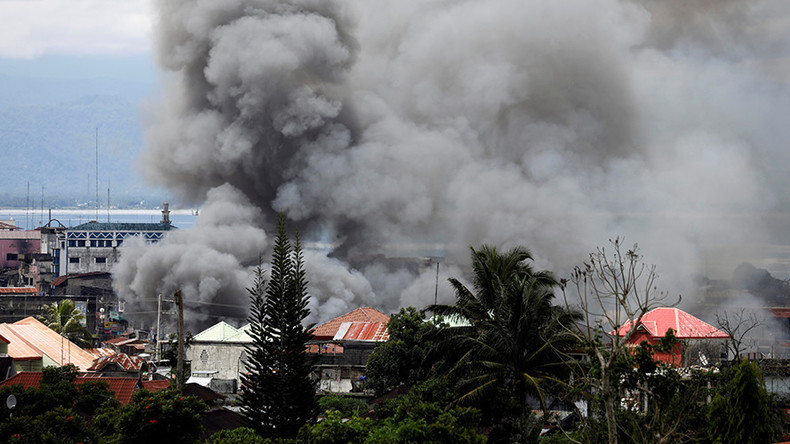 Philippines military helicopters fired guided rockets at positions of an Islamist rebel group in the besieged southern city of Marawi, apparently marking the first time the government has resorted to heavy firepower, Reuters reports.
The operation comes as the city enters the fifth day of a siege by government forces.
"We are trying to use our maximum force," Reuters quoted Mindanao Command Chief Major General Carlito Galvez as saying.
"The main purpose of the offensive is to suppress the lawlessness and to maintain normalcy in Marawi so that our people here, our countrymen, can return, especially by Ramadan," he said, adding that he hopes the city would be cleared within three days.
Since Tuesday, Philippines armed forces have been clashing with the local Maute group affiliated with Islamic State (IS, formerly ISIS/ISIL), which has taken over large parts of Marawi on the island of Mindanao. The fighting erupted after a raid on the alleged hideout of Isnilon Hapilon, a head of Abu Sayyaf, another rebel group on Mindanao. In 2014, Hapilon pledged allegiance to ISIS.
"It is painful for the Maranao [name used for Mindanao residents] that it is Ramadan but our action now is to protect Marawi. These are the impacts of the local terrorist group's actions," military spokesman Lieutenant Colonel Jo-ar Herrera said, DW reports.
IS' Amaq news agency reported that its militants were responsible for the unrest in Marawi.
"I saw them near the highway. I saw ISIS there. I could tell because they wore black headbands with the ISIS signs," Reuters cited a man named Musa, who was fleeing Marawi, as saying.
Philippines President Rodrigo Duterte declared martial law for 60 days on the Philippines' second-largest island, Mindanao, home to a Muslim minority.
The president has previously warned that he would not hesitate to extend martial law throughout the whole nation if necessary.
In a bid to retake Marawi, government troops neutralized at least 41 Maute fighters, including militants of Malaysian and Indonesian origin, according to a military spokesman, as cited by Reuters. On the government side, 13 soldiers have been killed, with 45 wounded.
Officials fear losses among civilians, AP reports. Up to 90 percent of Marawi's population of 200,000 has fled, while those left in the city wave white flags to signal they are not militants.
"[The rebels'] refusal to surrender is holding the city captive. Hence, it is now increasingly becoming necessary to use more surgical airstrikes to clear the city and to bring this rebellion to a quicker end," AP quoted a military statement as saying.
On Friday, President Duterte urged the militants to start negotiations, saying that they could "still solve this through dialogue."
"And if you cannot be convinced to stop fighting, so be it. Let's just fight," he said.