UK terrorism threat reduced after wave of police raids targeting jihadist networks
Published time: 27 May, 2017 12:02
Edited time: 28 May, 2017 08:31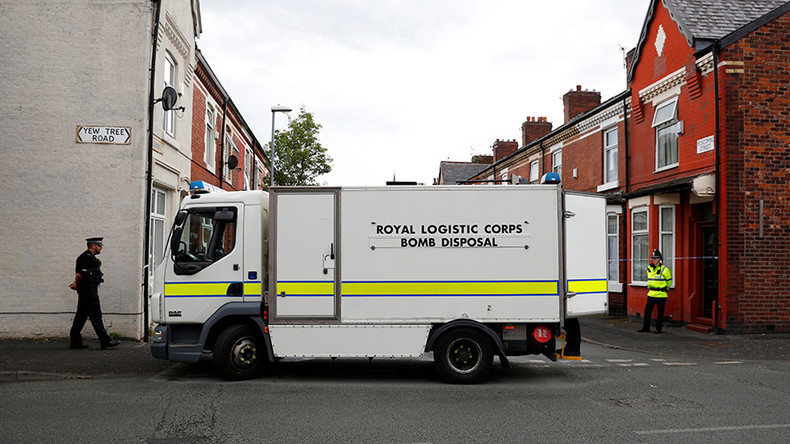 British Prime Minister Theresa May reduced the terrorism threat level in the UK from 'critical' to 'severe' Saturday, with armed soldiers patrolling streets across the country to be withdrawn beginning Monday evening.
May said the "significant activity" by police since Monday's suicide bombing led to the reduction in the terrorism threat level, according to Reuters.

"A significant amount of police activity has taken place over the last 24 hours and there are now 11 suspects in custody," May said, as cited by Reuters.

"The public should be clear about what this means. A threat level of severe means an attack is highly likely. The country should remain vigilant."

A total of 11 men are still being detained as part of the investigation and are currently being questioned by detectives with the Greater Manchester Police.
Two additional arrests were made Saturday morning in raids in the north of the city, with controlled explosion carried out to gain access to a house in the area.

The area was later evacuated and cordoned off as the bomb disposal unit arrived at the scene.
Britain's most senior counter-terrorism officer stated that police had made "immense" progress and had apprehended a "large part of the network" believed to be connected with Monday's suicide bombing which killed 22 people.
British intelligence officers have identified 23,000 jihadist extremists living in the UK, The Times newspaper reported on Saturday.
Security services are managing 500 active counter-terrorism operations across the UK, involving 3,000 people believed to pose a threat to national security, Reuters reports.
Mark Rowley, the UK's police chief for counter-terrorism, advised the public to be vigilant but to "go out as you planned and enjoy yourselves," in reference to the bank holiday weekend in which security has been increased at over 1,300 events across Britain, including soccer cup finals in London and Glasgow, and the Great Manchester Run on Sunday.