'West exploits Africa': Man breaks minute of silence in Berlin over migrant deaths
Published time: 26 May, 2017 18:53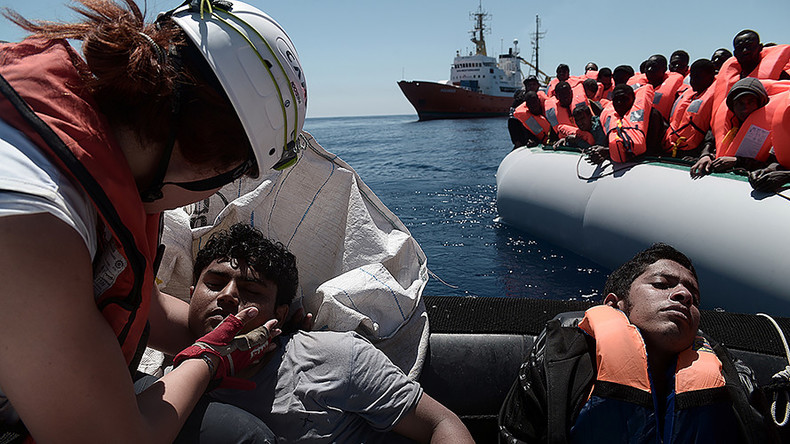 Germany's Protestant Church's minute of silence in memory of thousands of migrants who perished trying to cross the Mediterranean to Europe has been interrupted by a man who shouted that people are forced to flee because the West "exploits Africa."
Organizers of a "Kirchentag" event in Berlin, one of some 2,500 taking place during the five-day Protestant Reformation celebrations that kicked off on Wednesday, wanted to observe a moment of silence for the thousands of people who had lost their lives attempting to reach Europe crossing the Mediterranean.
The formal minute of reflection turned into a desperate cry for change, however, when a man in the crowd broke the silence, shouting, "What is happening here is wrong."
"It's hypocrisy. Why do people flee? Because it is bad for them where they are. Why is Africa bad for the people? Because the West exploits Africa."
The man didn't elaborate on how exactly the West "exploits Africa," but lashed out at Germany's so-called 'open-door' immigration policy, claiming that the admission of refugees into the county goes against Article 16a on the right to asylum.
"That's an injustice that happens. And we take it in silence. I'm telling the truth!" he said. The man was promptly removed by security forces, Pack TV reported.
The route from Libya across the Mediterranean to Italy is the favored route of human traffickers ferrying migrants and refugees from Africa and the Middle East to Europe.
The UN High Commissioner for Refugees (UNHCR) said last month that over 24,000 migrants have made the journey from Libya to Italy in the first three months of 2017, an increase of 6,000 from last year.
A German rescue NGO also said last month that the current EU policy of stemming the flow of refugees by cooperating with the Libyan military is flawed because migrants will cross the Mediterranean "either way" simply to escape the dire plight in their home countries.
Frank Doerner, a senior manager at Sea Watch, a Berlin-based humanitarian NGO operating in the Mediterranean Sea, told Die Welt his organization expects the number of refugees dying at sea to skyrocket in 2017, saying: "This year will be no good year."
"Many believe that people [migrants] weigh up rationally whether or not to attempt the journey [to the EU]," Doerner said of the reasons encouraging refugees to take dangerous journeys across the Mediterranean. "People tell themselves everything is better than where I come from, and if I'm going to die on my way, so let it be.
They will come either way," he added.
Earlier this month, the interior ministers of Germany and Italy wrote to Brussels urging the creation of an "EU Mission" at the border between Libya and Niger "as soon as possible," after over 40,000 people traveled through the North African country into Europe this year.
"The first months of this year have shown that our efforts up to this point have been insufficient. We must prevent hundreds of thousands of people who are in the hands of smugglers from risking their lives in Libya and the Mediterranean," said a letter penned by ministers Thomas de Maiziere and Marco Minniti, dated May 11.
Last week, German MPs agreed measures to "improve enforcement of deportation rulings," including allowing immigration officials to monitor refugees' cell phone data and speed up deportations. Human rights activists slammed the new rules as a violation of privacy.
The regulations envision that any rejected asylum seekers deemed to be a security threat can be detained for up to 10 days, compared to four previously, while awaiting deportation.
It will also be easier for authorities to monitor certain refugees with electronic ankle bracelets. Any asylum seekers who are not granted permission to remain and who fail to leave Germany voluntarily, as well as those who give false information about their identities, will be limited in their freedom of movement, DPA news agency reported, citing the document agreed by MPs.