9 women arrested after gathering for 'burkini party' in Cannes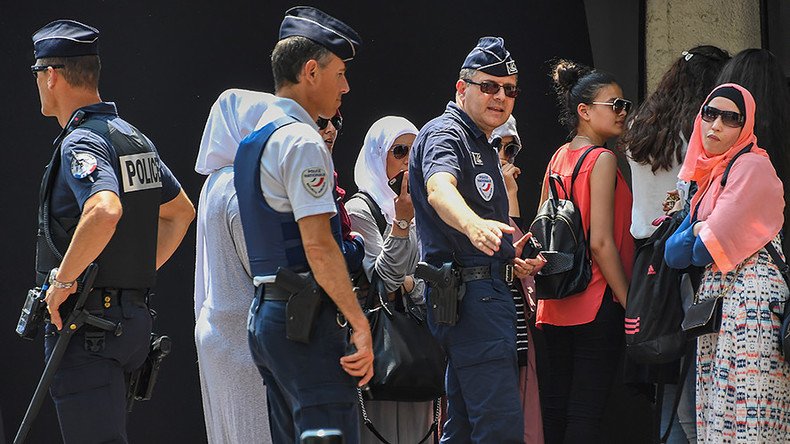 Nine women attempting to stage a 'burkini party' have been arrested in Cannes, days after a decree was issued banning public demonstrations during the city's film festival.
The women, who planned to swim in the sea as part of their protest, never actually made it to the beach on Friday afternoon. Instead, they were arrested in front of the Martinez hotel, AFP reported.
"It was observed this afternoon in Cannes a beginning of a gathering," local authorities said in a Friday statement, adding, that they "put an end" to the event and questioned those who "formed this illicit assembly."
The women, some of them minors, had come from Paris by train. They were taken to the police station and released at around 5pm local time.
They are reportedly friends of millionaire Rachid Nekkaz, an Algerian businessman and political activist who has become well-known for his campaign against the burkini ban on the French Riviera. He has paid out numerous fines issued to burkini-clad women who refused to obey the ban.
After spending time at the police station, Nekkaz went to the Cannes Film Festival to explain to the media that he had been warned by authorities that he would face a "fine of 7,500 euros and six months in jail for an unauthorized demonstration" if he continues to organize such events.
The millionaire announced Friday's scheduled 'burkini party' in advance, telling The Local and other media that he would accompany dozens of women wearing burkinis in the colors of the French flag as they strolled down the city's promenade and to the beach.
"The Cannes Film Festival is all about liberty and tolerance," Nekkaz told The Local on Monday. "It's the perfect place to celebrate this 'newfound freedom" in the city that was the first to ban the burkini."
An invitation posted on Nekkaz's Facebook page earlier this month showed two white women clad in blue, red, and white burkinis.
However, the local government banned all demonstrations during the film festival on Wednesday – a move which prompted Nakkez to instead call it a "simple bathing with friends and family," according to Le Figaro.
Cannes banned burkinis in August 2016, prompting the majority of other French resorts to follow suit.
You can share this story on social media: