Algerian tycoon plans burkini party during Cannes Film Festival, sends one to Le Pen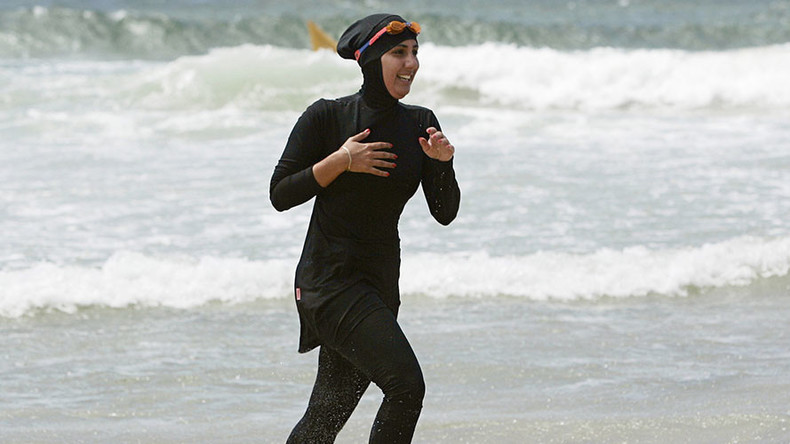 An Algerian millionaire dubbed 'Zorro of the niqab' is planning to throw a burkini beach party during the Cannes Film Festival. The tycoon claims to have sent right-wing Marine Le Pen the Muslim swimwear in French tricolor.
Rachid Nekkaz, an Algerian businessman and political activist, has resumed his pro-burkini campaign as summer approaches. This time, he has chosen the French Riviera city of Cannes for his "burkini-style party." The event on May 26 will coincide with the Cannes Film Festival, which is held in the resort city. The burkini is full-body swimwear used by some Muslim women, especially in public.
The party is scheduled to last for two hours – from 2-4pm local time. "A duration of a film," Nekkaz told Nice Matin newspaper.
"This is a way of celebrating a decision of [France's] State Council from August 26, 2016, which allows any woman to wear a burkini," he said, adding "Cannes was the first [city] to forbid it."
Cannes banned burkinis back in August of 2016, and the majority of French resorts soon followed suit.
The ban divided French society, with some praising the restrictions, while others worried it would provoke more tension with Muslims.
The French Council of State rendered the debate moot, however, when it overturned the ban on August 26 last year.
"Cannes is the world's showcase of France and the temple of extravagance, it's [a city of] total freedom… Some people wear bikini, others wear burkini. It is France that we love," he noted.
The businessman will take part in the 'burkini party' events on Friday, the Local reported, adding that the women will wear burkinis dyed in French tricolors.
"Let's all wear burkinis on the beaches during the Cannes Film Festival!" said the invitation posted on Nekkaz's Facebook page earlier in May.
The poster features Marine Le Pen, the former presidential candidate and leader of France's right-wing National Front party, wearing the full-body swimwear in the French flag's blue, white, and red.
Le Pen is known for being critical of Muslim scarves and swimwear. In February, she even refused to wear a headscarf for a meeting with the Lebanese Grand Mufti.
Conservative politician Nadine Morano, who repeatedly stood up for the burkini ban, is also featured on the poster.
Nekkaz told Nice Matin that he has sent "blue-white-red" burkinis to both Le Pen and Morano.
"They did not answer me," the businessman noted.
In 2010, Nekkaz, dubbed 'Zorro of the niqab', founded the 'Touche pas à ma constitution' (Don't touch my constitution) group, which was created to pay the fines of women convicted of wearing the Muslim burka in public.
The 45-year-old businessman was born in France to Algerian parents. However, he renounced his French citizenship back in 2013 to take part in Algeria's presidential election in 2014.