Swiss plane narrowly dodges drone collision
Published time: 26 May, 2017 17:22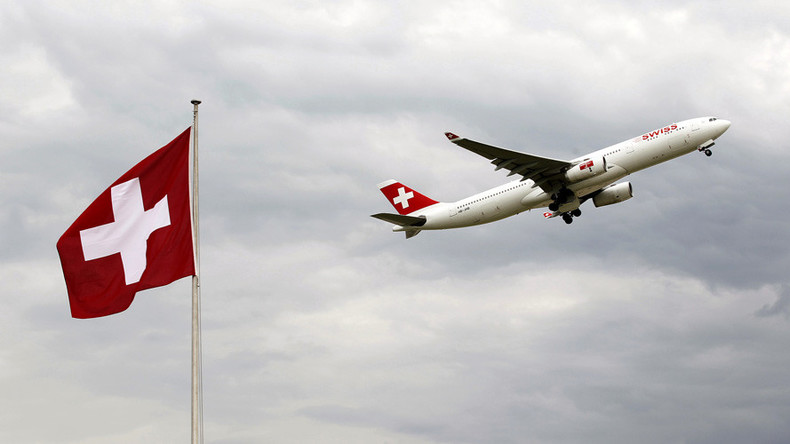 A passenger plane and a drone almost collided earlier this month above the city of Zurich, Switzerland, a newly released report shows. The Swiss transportation safety watchdog said it has noted a surge in incidents of this sort and is seeking new measures to prevent such potential collisions.
The incident occurred early morning on May 6, according to a newly released report by Swiss Transportation Investigation Board (STSB).
A Swiss International Airlines Airbus A330-300, which was on a flight from Dar es Salaam to Zurich, nearly collided with a drone during its final approach to Zurich airport.
The plane, with 12 crew-members and 185 passengers on board avoided the collision and safely landed on the runway.
"The preliminary report contains a brief and provisional information on this serious incident without claiming to be complete and without drawing any conclusions," the report reads.
The STSB has noted a recent surge in close encounters between planes and drones, according to local media. It has called for new measures to ensure that drones and other small flying objects can be detected early by ground and plane radars in order to prevent potentially deadly collisions.
The increased number of close calls between drones and planes comes amid the growing availability and popularity of civil consumer-ready unmanned aerial vehicles (UAVs).
In April last year, an investigation was launched after it was reported that a British Airways plane had been struck by a drone. The investigation, however, was closed due to lack of evidence since the investigators were not able to determine whether it was a UAV or a plastic bag.
READ MORE: 'Collision narrowly avoided': Drone flew within metres of Airbus passenger jet over London
Another alleged collision with a drone was reported in January this year, when a Linhas Aereas de Mocambique (LAM) Boeing 737-700 was allegedly struck by a flying object while landing at a local airport. The plane suffered substantial damage to its nose. An investigation, however, dismissed a UAV as the cause of the structural damage, blaming "air flow pressure" instead.