Palestinian protesters hold Trump effigy at gunpoint to decry visit (VIDEO)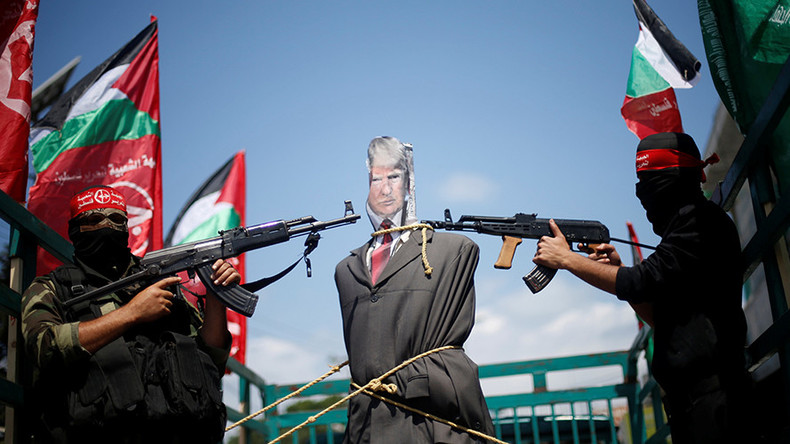 Hundreds of people took to the streets in Gaza City to protest Donald Trump's visit to Palestine on Tuesday and express their outrage over the labeling of de facto Gaza Strip rulers Hamas as a terrorist group.
During his stay in Saudi Arabia earlier this week, Trump mentioned Hamas alongside Islamic State (IS, formerly ISIS/ISIL) and Al-Qaeda terrorists, saying that the damage done by the groups "must be counted not only in the number of dead," but also "in generations of vanished dreams."
According to the Palestinian Ma'an news agency, the US leader's words were interpreted in Gaza as "a blanket condemnation of all forms of Palestinian resistance."
The anti-Trump rally was organized on the so-called 'Day of Rage' by the Popular Front for the Liberation of Palestine (PFLP), which is itself regarded as a terrorist group by the US and EU.
However, Ma'an said that the event gathered Palestinian protestors from all sides of the political spectrum.
The demonstrators marched through Gaza City, chanting anti-American slogans and waving Palestinian, Hamas, Iranian and PFLP flags.
The procession was headed by a truck, on the back of which was a tied-up effigy of Trump, with two masked gunmen pointing AK-47s at it.
A sign with "Resistance is not terrorism," written in both English and Arabic, and a picture of the US president with a footprint on his face was also anchored to the truck.
High-ranking PLFP member Kayid al-Ghoul told Ma'an that the Tuesday rally was staged to condemn Trump's policies towards Palestine, which were "predictably in support of Israel's conditions for the so-called peace process."
"We are sending a message that the Palestinian people refuse to give up any of our rights, and refuse to go back to US-sponsored negotiations," Ghoul said, adding that the action was also aimed at showing solidarity with over 850 hunger-striking Palestinian inmates, who have been demanding better treatment in Israeli prisons since mid-April.
Trump arrived in the Palestinian city of Bethlehem in the central West Bank earlier in the day, after spending Monday in Israel.
After meeting with Palestinian leader Mahmoud Abbas, Trump said that the he was "truly hopeful that America can help Israel and the Palestinians forge peace."
An end to the violence in the region would be "an amazing accomplishment" that would "begin a process of peace all throughout the Middle East," he stressed.
Abbas said that he was eager to become a partner in attempting to reach a deal that would establish a Palestinian state on territories occupied by Israel for over half a century.
READ MORE: 'Where does he think Israel is?' Chelsea Clinton trolls Trump over Middle East fail (VIDEO)
Tuesday marked the second day of Palestinian protests, which simultaneously condemned the US president's visit and supported the hunger strikes in Israeli prisons.
On Monday, over a dozen Palestinians were injured in clashes with Israeli troops, who deployed tear gas, rubber bullets and reported live fire against the rioters.