Palestinians injured in clashes with IDF on 1st day of Trump's visit to Israel (VIDEO)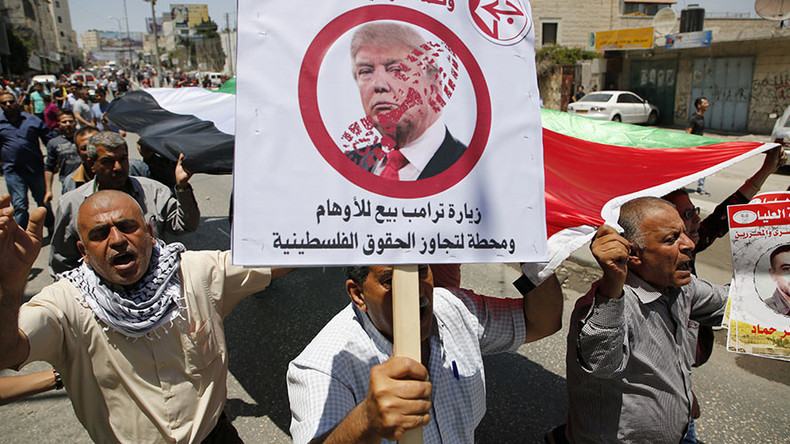 At least nine Palestinians were injured by rubber bullets and reported live fire as they clashed with the Israeli troops in the West Bank and East Jerusalem on the first day of US President Donald Trump's visit to Israel.
The violence erupted at the Qalandia checkpoint which links Jerusalem and the northern West Bank.
Dozens of Palestinian youths set tires and rubbish on fire and threw glass bottles and stones at Israeli troops.
The IDF responded with tear gas and rubber bullets with AP and Haaretz reporting that live ammunition was also discharged.
Al least nine people were injured in the clashes and one person reportedly remains in a serious condition.
According to the Palestinian Health Ministry, three of those wounded at Qalandia had gunshot wounds, but the Israeli military denied claims that live ammunition was used, AP reported.
The Palestinian Red Crescent said that dozens of protestors suffered from smoke and tear gas inhalations with 18 of them requiring medical treatment.
The Palestinian WAFA news agency also reported injuries from rubber bullets and tear gas inhalations among Palestinian in the villages of Deir Sharaf, Azzoun, Nabi Saleh and other areas.
Shops were shut down, schools closed and transportation came to a halt in the West Bank on Monday as residents showed support for the over 850 Palestinian hunger-strikers who have been demanding better treatment in Israeli prisons since mid-April.
READ MORE: Israeli troops filmed watching idly as settlers throw stones at Palestinians (VIDEO)
"We timed this strike to take place upon the arrival of Trump," Isam Bakr from the Palestinian Prisoners' Affairs Committee told Jerusalem Post.
"We want to send a message to the American president that he has to pressure Israel to end its settlement construction and occupation," Bakr added.
READ MORE: Israeli ad mocking Palestinian hunger striker sparks #Boycott_PizzaHut
Tensions are likely to escalate in the Palestinian occupied territories as the Bakr's organization has called for a "day of rage" on Tuesday when Trump visits the West Bank town of Bethlehem.
You can share this story on social media: