Israeli troops filmed watching idly as settlers throw stones at Palestinians (VIDEO)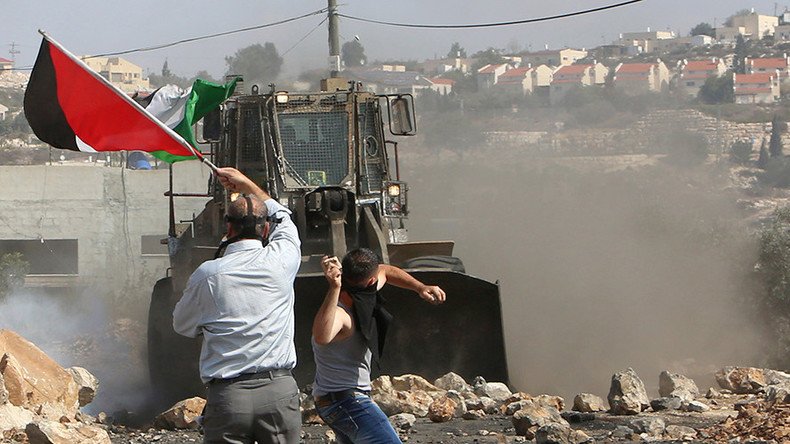 An Israeli human rights group has released video footage of Israeli troops looking on indifferently while Jewish settlers threw stones at Palestinians in the West Bank and has demanded the IDF look into the behavior of its soldiers.
The footage was shot by a Yesh Din group activist on Friday near the village of Burin in the occupied West Bank, the Haaretz newspaper reported.
It showed armed Israeli soldiers standing idly by while settlers were hurling stones at Palestinians just meters away.
"This is a very serious incident in which IDF soldiers allowed the criminals to throw stones unhindered," Yesh Din said in a statement.
"The soldiers have the responsibility to prevent violence and they have the authority to arrest the lawbreakers and hand them over to the police. As they failed to do so, the IDF must investigate their conduct," it added.
Despite the content of the video, the IDF has denied claims by the activists that the soldiers turned ignored the violation.
"Forces that arrived at the site tried to separate the sides and asked the settlers to stop throwing stones," the IDF said in a statement.
"Later, additional forces were dispatched and put an end to the friction, dispersing everyone present," it added.
The military said that both Israelis and Palestinians were throwing stones, adding that the incident "ended without injuries."
The IDF explained the presence of the settlers in the area by saying they needed to put out a fire.
A similar incident took place outside Burin village on Wednesday, with Rabbis for Human Rights group also filming masked settlers throwing stones at Palestinians.
And IDF soldier then arrived and dispersed the perpetrators but made no arrests among the Israelis. He was even caught on camera patting one of the settlers on the shoulder.
READ MORE: Female Palestinian minor sentenced to 10 years for attempted stabbing
The only person to be detained on Wednesday was a Palestinian youth who threw stones at the Israelis according to Haaretz.
You can share this story on social media: