Israeli settler kills Palestinian, injures journalist during rock-throwing protest – ministry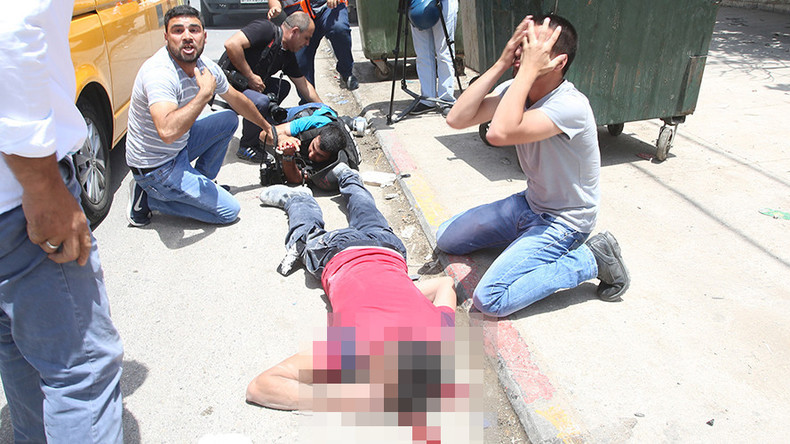 A Palestinian was killed by an Israeli settler who shot at protesters who were throwing rocks at his car, the Health Ministry of the Palestinian Territories says. An AP photographer was also injured by the gunfire.
The shooting occurred south of the city of Nablus in the occupied Palestinian West Bank on Thursday. Hundreds of Palestinians protested near an Israeli military checkpoint at Huwara, when an Israeli settler in a car attempted to drive through the crowd. The protest was held in support of Palestinian prisoners of Israeli jails, who have been on hunger strike since April 17.
The Palestinians reportedly surrounded the car and damaged it with stones. The settler subsequently stepped out of his car and opened fire, along with Israeli soldiers stationed at the checkpoint.
A Palestinian identified by the Health Ministry as 23-year-old Muataz Bani Shemsay, resident of a nearby village, died from a gunshot wound to the head. A photographer with Associated Press was injured by gunfire, AFP reports citing Palestinian medics.
The Israeli military acknowledged the incident, branding the protest a "violent riot" and confirming the casualties among the Palestinians. A military spokesperson, however, claimed that the soldiers had not used lethal weapons, but only "riot-dispersal means," while the settler allegedly only fired into the air.
"One of the Israeli citizens whose car was damaged from the rocks fired into the air," AFP cited the military spokesperson as saying. "From what we understand it is not from [soldiers'] fire, but the incident is still under review."
A settler regional council in the northern West Bank confirmed to Haaretz that the shooter was one of their own.
The settler has filed a complaint with the police in the aftermath of the incident. It remained unclear whether his actions would be the subject of any investigation.
READ MORE: Worldwide #SaltwaterChallenge: Massive support for jailed Palestinians on hunger strike (VIDEO)
It's the second such incident in just two days. On Wednesday, a Palestinian allegedly throwing stones at Israeli cars along the West Bank's main highway was shot and slightly injured by an Israeli settler. The settler claimed he had acted in self-defense, as some stones allegedly hit his vehicle.
Israeli law enforcement questioned the settler and his friend, who also was in the car and subsequently released them. However, the investigation into their illegal use of a firearm will continue, according to the police.
"There were two incidents over the last couple of days. In the first one, a [settler] having been stoned, got out of his car and shot at the demonstrators who were trying to flee the scene. This is obviously beyond what he had to do in order to rescue himself, so this is doubtful," Haaretz newspaper editorial board and columnist Amir Oren told RT.
"The other incident today is yet to be disproven, because his version was that he felt that his life was under severe threat and he had to shoot to extricate himself."
You can share this story on social media: