IDF fire rubber bullets & tear gas at supporters of Palestinian hunger-striking prisoners (VIDEO)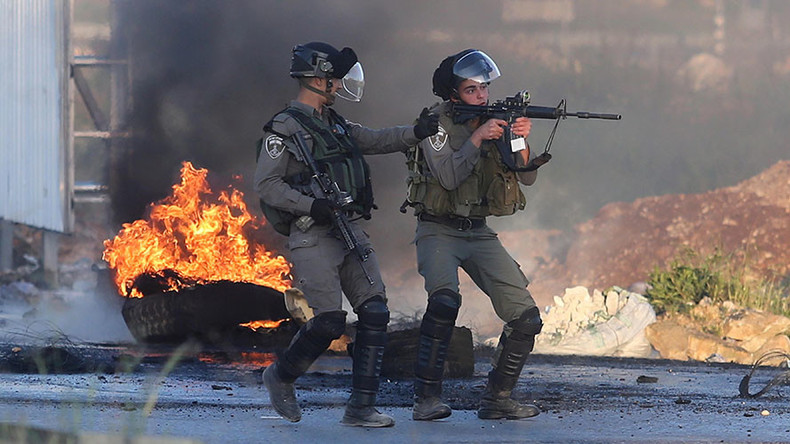 At least nine people have been injured in the West Bank after Israeli soldiers reportedly fired rubber bullets and tear gas to disperse protesters who marched in support of the Palestinian prisoners' mass hunger strike.
Clashes broke out between Israeli forces and Palestinian youths on Monday night after the Fatah movement organized a march in the city of Al-Bireh, in the center of the occupied West Bank and 15 kilometers (9.5 mi) north of Jerusalem.
Marching from Yasser Arafat Square in central Ramallah towards the Israeli Beit El checkpoint north of the Al-Bireh city, the activists called on the international community to support the Palestinian hunger strikers in Israeli jails.
They also called on human rights groups to pressure Israel to fulfil the basic rights of prisoners.
The demonstration was eventually halted by the Israeli Defense Force (IDF) after the youths set fire to tires and began attacking the security forces using stones and Molotov cocktails.
To disperse the Palestinian youth, the IDF deployed water cannons and fired tear gas and stun grenades.
The Israeli soldiers also allegedly used live ammunition and rubber bullets to quell the crowd.
At the end of the violent confrontation, at least nine people suffered injuries from rubber-coated metal bullets and live ammunition, the Palestinian news agency Ma'an reports.
Furthermore, dozens of others Palestinian youths suffered from suffocation after inhaling toxic substance from tear gas canisters.
Around 1,500 Palestinian prisoners in Israeli jails began a mass hunger strike on Palestinian Prisoners Day on April 17 to demand better detention conditions.
The inmates, led by prisoner and Fatah leader Marwan Barghouti, call on Israeli authorities to put an end to solitary confinement and to honor family visitation rights.
The prisoners are also demanding access to medical care and an end to the abuse at the hands of prison guards.
An estimated 6,500 Palestinians are currently held by Israel. Out of that number, around 500 are held under administrative detention, a counter-terror practice which is manifested through an extended imprisonment without charge.
READ MORE: Clashes erupt in West Bank at protest over Palestinian hunger strike (VIDEO)
Monday night's clashes followed a similar scenario which resulted in a confrontation with Israeli forces on Sunday.
Protesters were setting bins on fire and hurling stones at Israeli soldiers, while the soldiers fired rubber-coated steel bullets at the protesters, injuring three people.