Worldwide #SaltwaterChallenge: Massive support for jailed Palestinians on hunger strike (VIDEO)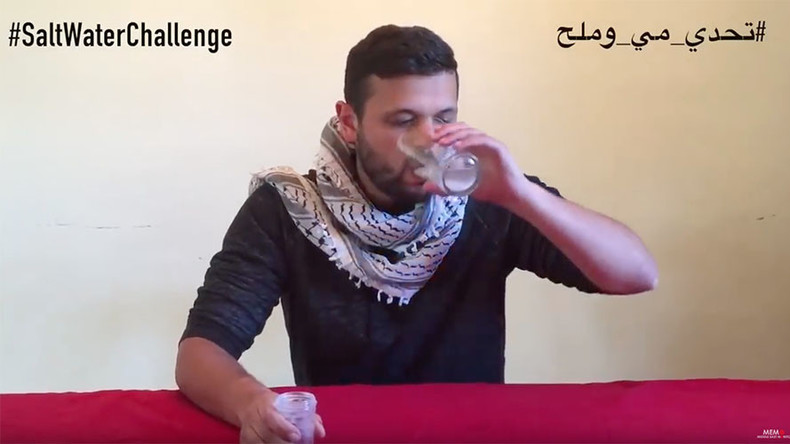 Scores of people have been downing glasses of salt water to support the 1,500 Israeli-held Palestinian inmates who have been on hunger strike for weeks in protest against the jail conditions they are being held in.
Salt water is something the prisoners drink to stabilize their health as they protest against the conditions that the Israeli government is said to keep them in. In particular, the prisoners demand better healthcare and more regular visits from their loved ones. They're also demonstrating against solitary confinement and detention without trial.
The challenge seems to have been started by the son of one of the prisoners, Aarab Marwan Barghouti, who posted the first video a week ago. The video received thousands of views.
Many followed Barghouti's example, and the videos started emerging worldwide, with the participants speaking Arabic, as well as English, French and many other languages.
Not only individuals, but cafes and restaurants have been joining the challenge, offering salt water on their menus.
Last but not least, among those who is taking part, are the prisoners' mothers, as RT learnt.
"I'm the mother of a prisoner sentenced to 20 years in jail. I haven't seen him for a year. They reject my application each time I apply to visit him. We are supporting our sons by drinking salt water. We want to drink it because all our sons have now is salt and water," Um Raed said.
Raed isn't the only one denied a visit, another local woman told RT.
"I'm the mother of the prisoner sentenced to life. He has been in jail in Israel for 25 years. I wasn't allowed to visit him for a year, I miss him so much, and I wanted to meet him before the strike to make sure that his health was OK," Najat Alastal said.
"As mothers, we are terrified. We're waiting for any news," she added.
Israeli authorities slammed the strike, saying prisons won't negotiate with inmates.
"Hunger strikers in prison endanger the health and life of the prisoners in custody of the state, which is in charge of their well-being – organized hunger strikers even more so," Assaf Librati, spokesman for the Israel Prison Service, said in an official statement.
At the beginning of the hunger strike campaign, a group of right-wing Israelis held a barbecue outside a prison to tease the Palestinian inmates with the smell of meat.
Members of the youth branch of Ichud Leumi [National Union] had outdoor grills near the Israeli-controlled Ofer military prison.
You can share this story on social media: