Runaway Holocaust denier convicted for 'Sieg Heil' salutes faces return to prison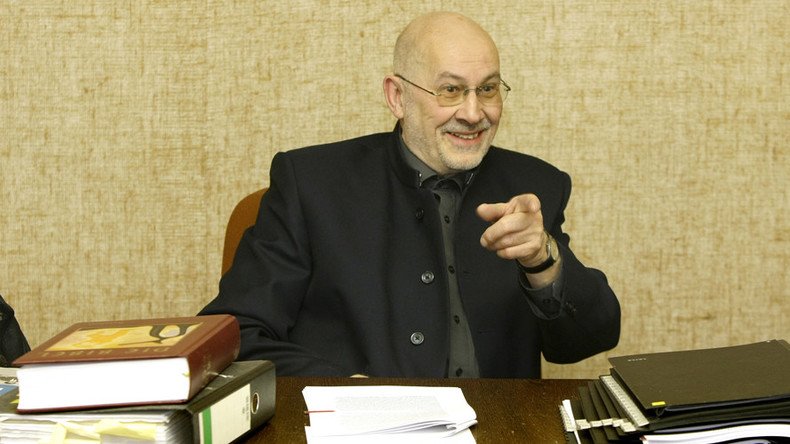 An 81-year-old Nazi sympathizer – recalled to prison in Germany to complete a 10-year sentence for continuously breaking the nation's Holocaust denial laws – has been arrested in Hungary.
Horst Mahler has repeatedly broken Germany's strict Volksverhetzung code, or national incitement law, which makes it illegal to deny or "attack the dignity of" Holocaust victims.
The former lawyer had been on release from a 2009 conviction due to ill health, but according to Deutsche Welle he was recalled to serve out the remainder of his sentence earlier this year.
READ MORE: Israeli Holocaust museum joins chorus of anger against Spicer over 'chemical weapons' remark
Hungarian police say the man wanted by German authorities was arrested in Sopron on Monday at 1:45pm local time.
A statement published by Mitteldeutsche Zeitung suggested Mahler sought asylum while on the run in Hungary.
However, a spokesperson for the Hungarian government denied the report
"Mr Horst Mahler did not submit a request for asylum in Hungary," the spokesperson told RT.com.
"Had he submitted a request for asylum in Hungary it would have been rejected by the immigration authority on the grounds that it would have been unacceptable according to Article 53 (1) of Act LXXX of 2007, in view of the fact that he's a citizen of a member state of the European Union."
READ MORE: 'Anti-Semitic and inhuman': Outcry as AfD branch leader calls to forget Holocaust
In April, Horst – who was disbarred for saying billions of people would be willing to forgive Hitler if "he had committed only the murder of Jews" – released a video indicating he had been recalled to finish his sentence.
"Perhaps this will be the last chance I have to address my fellow Germans," Mahler said in the appearance.
"April 19, 2017, I am scheduled to return to prison to finish my sentence – another three and a half years.
"I'm 81-years-old, awaiting three more charges and it's always the same: inciting racial hatred, this time against the Jews."
The video was posted by Nordland TV on social media. Alison Chabloz, a Manchester-based journalist and supporter of Mahler, reposted the video with English subtitling after the original appeared to have been taken down from YouTube.
Chabloz's blog states how her YouTube channel is used to post "subtitled translation of news."
Germany's Volksverhetzung law states that anyone "endorsing, glorifying or justifying" Nazi violence faces a prison term of up to five years in prison.
Mahler was found guilty by a Munich court in 2009 of repeatedly giving the 'Seig Heil' salute, reports Handelsblatt.
RT.com has reached out to the office of the Munich prosecutor for comment.
You can share this story on social media: