Hong Kong denies asylum to refugees who sheltered Snowden in 2013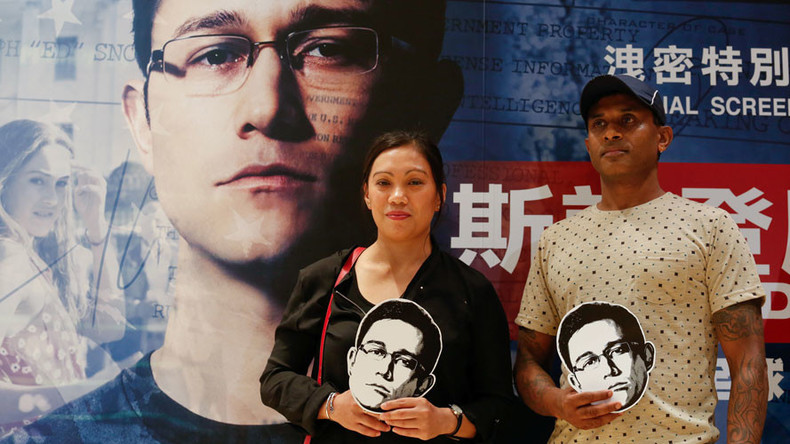 Hong Kong has rejected the asylum applications of seven refugees who helped hide NSA whistleblower Edward Snowden during his time in the city in 2013. Their lawyer believes the decision was linked to Snowden's case and was, in fact, made long ago.
The asylum-seekers are Ajith Pushpakumara, a former soldier from Sri Lanka, as well as a family of four from the same country, including Supun Thilina Kellapatha, his wife Nadeeka Dilrukshi Nonis, and their two children. Also at risk of deportation is Vanessa Mae Rodel, a Filipino woman who has a Hong Kong-born daughter, according to the South China Morning Post.
The ruling of Hong of Kong's Immigration Department to reject their cases was "completely unreasonable," said Robert Tibbo, a Canadian lawyer representing the refugees, who added that the decision included many "factual errors." He also accused the authorities of deliberately trying to force his clients out of the city.
Tibbo, who advised Edward Snowden in 2013 after his arrival in Hong Kong, said his clients are now paying the price for helping the former NSA and CIA contractor evade US authorities. "I felt they already had the decision to reject the clients written up a long time ago... Their screening was expedited not to protect them, but to dispense their cases," he noted.
The immigration authorities began to take a special interest in the refugees after the world media revealed their roles in helping Snowden mysteriously disappear from the radar of the US' secret services. When the story went public last year, the lawyers hoped that the publicity would help the Filipinos and Sri Lankans obtain protection and remain in Hong Kong.
However, instead, the refugees say a government-contracted social service agency questioned them about their links to Snowden.
Earlier this year, it was reported that Sri Lanka police agents had visited Hong Kong and showed the asylum seekers' photos to local residents in an attempt to track their whereabouts. The Sri Lankan police have denied these reports, however, saying the allegations were "a complete lie."
Back in 2013, Tibbo asked the Sri Lankans to hide the famous whistleblower. "I was very happy to help him," Ajith told National Post last year. "This famous person was a refugee too, same as me." For several days, Ajith's small, windowless flat on the western tip of Hong Kong island was Snowden's hideout.
Supun and his wife Nadeeka, who at the time lived in a run-down residential area of Kowloon, also offered Snowden shelter in their cramped flat. The 32-year-old Sri Lankan has been stuck in Hong Kong's refugee system since 2005.
Though nervous, Supun helped the fugitive. "I was scared to ask questions," he told the media outlet, adding that he thought Snowden was a soldier because of his short haircut. "I told Nadeeka, 'I don't know why he's coming.' I thought it had to with my [asylum] case," he said.
Rodel, who let Snowden stay in her cramped one-bedroom home in the Sham Shui Po neighborhood, said her fugitive guest was quiet and preoccupied with his computer. "He was worried a lot about his next step," she said, adding "he talked about his past life. He was really scared most of the time."
As time is now running out for the seven refugees, their lawyers have applied for asylum in Canada. "Given these rejections, the refugees are now more vulnerable than ever and in urgent need of protection,"said Marc-Andre Seguin, a Montreal-based lawyer involved in their application cases, who added that this is their "last hope" for seeking refuge.
"Those who helped Edward Snowden in Hong Kong when he was seeking asylum now find themselves at dire risk if being sent back to their countries,"said Dinah PoKempner, general counsel at Human Rights Watch.
"Canada has the opportunity to prevent a terrible outcome and should act immediately," he said.
You can share this story on social media: