'Most wanted man in the world is in my house!' How Hong Kong refugees sheltered Edward Snowden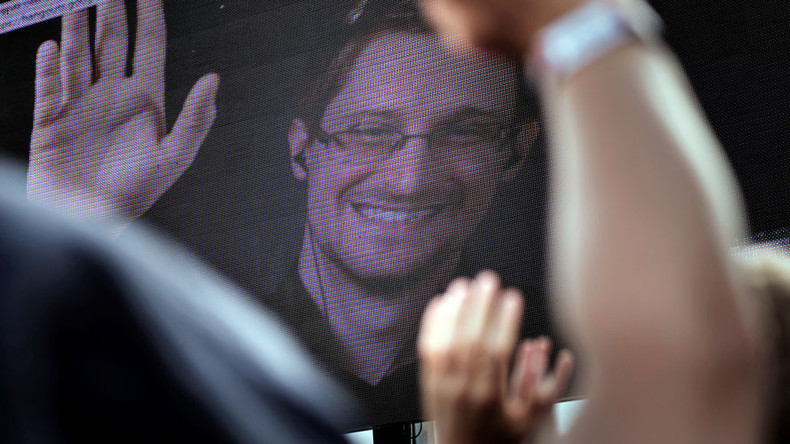 A little known fact about Edward Snowden: he was helped by refugees while hiding out in Hong Kong. After he fled the US, at least four asylum seekers – all clients of his Hong Kong lawyers – took the NSA whistleblower into their homes.
This was all in the early stages of the saga that unfolded when Snowden released highly classified information to the public, exposing the secretive US agency's worldwide spying program in June 2013. The families have now chosen to break their silence and tell the riveting story of how they helped hide "the most wanted man in the world," as Vanessa Mae Bondalian Rodel, a 42-year-old Filipino woman, told the New York Times.
Rodel and her one-year-old daughter's tiny apartment would become Snowden's hideout as he was pursued internationally.
During the two weeks spent in Hong Kong, he would change addresses three times, all in the poor, run-down area of Kowloon Walled City, where tiny apartments are stacked atop each other, government control does not extend, and life is completely self-contained. In other words, it is the perfect hiding place.
Snowden's lawyer Robert Tibbo says his refugee clients now hope the story will generate enough publicity for the Hong Kong government to take action on their cases. They are part of a group of 11,000 foreigners cooped up in a city that historically stood in legal limbo between Chinese and British control. And so it is with them, as they await their asylum applications to be issued by the Chinese government.
"These were people who went through the same process when they were fleeing other countries," Tibbo told NYT. Snowden believed they would understand his plight, and that is why he turned to them for help. He was also not on the Hong Kong Police wanted list at the time.
"My first impression of his face was that he was scared, very worried," Rodel remembers.
Snowden took her room, while she and her daughter took the only other space in the apartment. Sitting night and day at his computer, he could never go out. Internet access was improvised from a mobile device, as no network existed.
On the second day of his stay, Rodel accidentally discovered the true grandeur of Snowden's persona. This was after he asked if she could buy him a copy of the South China Morning Post, an English-language paper.
"Oh my God, unbelievable," she remembers thinking. "The most wanted man in the world is in my house."
Tibbo says that he and Snowden quickly rejected the idea of staying in a warehouse, or the United Nations Refugee Processing Center.
Over the next two weeks, he would spend one night in the apartment of Ajith Pushpakumara, 44, who had fled his native Sri Lanka after being tortured for desertion. Like Rodel, a person with a story similar to Snowden's identified with the American.
"I was worried about him," he said.
Supun Thilina Kellapatha, with his wife and baby, also took Snowden in for three days.
They all remember Snowden as tired and frightened, but extremely polite and respectful.
Before he left their home, he left the family $200 under a pillow. They said that they used the money to buy necessities for their daughter and would remember Snowden forever. The wife, Nadeeka Dilrukshi Nonis, said, "Sometimes I tell Supun, maybe he forgot us… I want to tell him, 'Edward, how are you? We will never forget you.'"
Edward Snowden's supporters are now working to raise money to help the Kowloon asylum-seekers who showed so much concern for Snowden's plight and graciously accepted him into their homes.
It was after his stay in Hong Kong that the NSA whistleblower was granted asylum in Russia, where he currently resides.