Vandals smash 70 Catholic & Jewish headstones in Rome's landmark cemetery (VIDEO, PHOTOS)
Published time: 13 May, 2017 14:01
Edited time: 14 May, 2017 08:16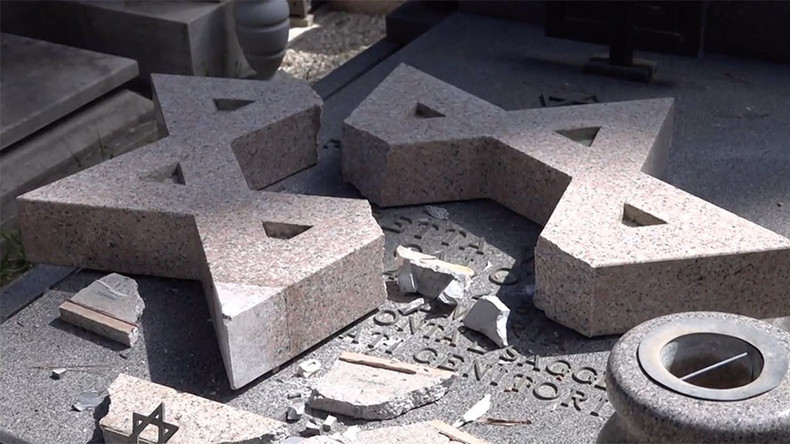 Vandals desecrated Rome's Campo Verano cemetery, smashing 70 Catholic and Jewish headstones and memorial monuments. Photos on social media show shattered glass frames, broken tombs, and damaged Stars of David.
The incident took place on Thursday night. The 19th-century cemetery hosts Catholic and Jewish headstones, as well as monuments to the victims of World War I. The site is a popular destination for tourists. Many notable people, including Italian film actor Marcello Mastroianni, are buried there.
The damage was discovered on Friday morning during an inspection before opening the site.
Smashed tombs and tombstones, damaged stars of David, as well as shattered glass frames decorating graves and broken flower vases can be seen on photos shared on social media. In total, 70 tombstones were damaged or destroyed.
According to Italian media, security cameras managed to capture the alleged culprits – a group of young people. They entered the site at night and then ran through the cemetery, smashing monuments.
La Prima Pagina newspaper reported that the vandals were 15 or 16 years old, and some of them have already been identified.
Mayor of Rome Virginia Raggi called the incident a "cowardly act" on Twitter, adding that there should be immediate clarity to find out what exactly happened.
The Rome Jewish Community said it was too soon to determine if anti-Semitism played a role in the incident.
READ MORE: Vandals desecrate 80% Jewish graves at small French cemetery
"We are awaiting developments in the investigation by [law enforcement] to ascertain the causes and responsibility for this act," it said, as cited by the Times of Israel.
The chief rabbi of Rome, Rabbi Riccardo Di Segni, arrived at the site to view the damage. He then prayed with the families of those whose tombstones were vandalized, Arutz Sheva reported.
There have recently been a number of incidents in other European countries in which Jewish graves were vandalized. In April, the Federation of the Jewish Communities in Romania said it was "saddened and revolted" after several youths vandalized a Jewish cemetery in Bucharest.
READ MORE: Jewish community shocked as Bucharest cemetery vandalized on Holocaust Remembrance Day
In March, 40 headstones at an ancestral Jewish cemetery in Waldwisse, 215 miles east of Paris, were desecrated.