EU should hold Denmark accountable for Faroe Island 'whale slaughter' - activists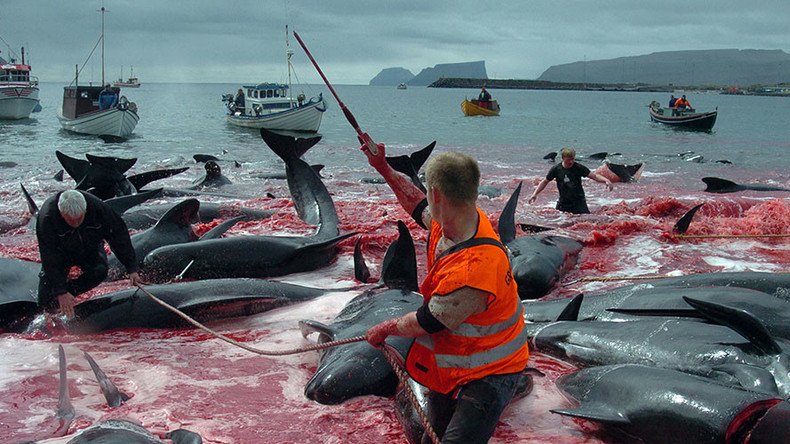 Environmental activists are urging the European Commission to take action against Denmark, accusing the country's officials of facilitating the slaughter of pilot whales and other marine mammals in the Faroe Islands.
Sea Shepherd Netherlands announced that it has officially submitted a request to the commission to launch "infringement proceedings" against the Scandinavian country, claiming it has the formal support of 27 members of the European Parliament.
The complaint centers on a practice known as Grindadráp, or Grind, in which "hundreds of pilot whales are driven onto the beaches of the Faroe Islands using motor boats, then slaughtered..." a Sea Shepherd press release states.
The ritual – which is held every year from June to November – involves the mammals being led into a bay or fjord where they are then killed by hand, turning the waters blood-red. The meat and blubber are then distributed to residents.
The release notes that Danish officials including police, navy, and customs officers have been "facilitating and even actively participating in the Grind," which violates the EU's Habitats Directive on the Conservation of Natural Habitats and of Wild Fauna and Flora.
"...By supporting the Faroe Islands in the killing of pilot whales and other cetaceans, Denmark facilitates the slaughter and fails to fulfill its EU obligations," the release states, adding that "the government of Denmark has shown it's willing to do whatever it can to ensure that the slaughter continues."
It goes on to state that Denmark has not asserted – "and truly cannot legitimately assert" – an exemption from the Habitat's Directive, noting that the Commission also "cannot assert one on Denmark's behalf."
The Faroe Islands is part of the Kingdom of Denmark and an autonomous territory in the North Atlantic with a population of around 50,000 people. Although Denmark joined the European Union in 1973, the islands chose to remain outside the bloc – thus it is not directly subject to EU laws which prohibit the killing of whales and dolphins.
Grinds have long been part of Faroese culture, likely beginning around the time the islands were settled more than 1,000 years ago. According to a 2012 study, residents kill an average of 838 pilot whales and 75 dolphins each year.
READ MORE: 30 plastic bags, 1 dead whale: Shocking toll of vast ocean pollution laid bare
Faroe Islands spokesperson Pall Nolsoe defended the practice last year, saying that "whaling is a natural part of Faroese life and pilot whale meat and blubber are a cherished supplement to households across the islands..."
The Wednesday filing is not the first time that the Sea Shepherd activist group has taken action against the Grinds. Twenty-eight of the organization's campaigners were arrested during its Pilot Whale Defense Campaigns in 2014 and 2015, according to the Maritime Executive. Faroese and Danish authorities confiscated four Sea Shepherd boats during that time.
You can share this story on social media: