2nd German soldier arrested in 'false-flag' plot to assassinate pro-refugee politicians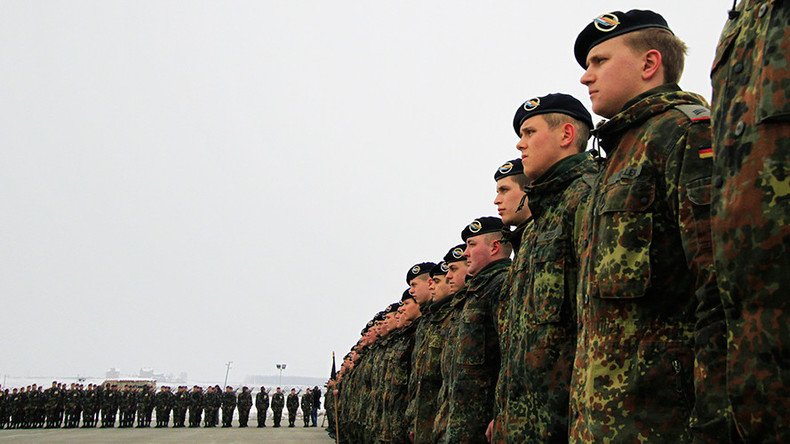 German authorities have detained another soldier who is believed to be involved in an alleged far-right plot to stage a false-flag terrorist attack against high-ranking pro-refugee politicians and blame it on asylum seekers.
The 27-year-old suspect, who the prosecutors identified as Maximilian T, was arrested in Kehl, Baden-Wurttemberg on Tuesday after military intelligence discovered a link between two suspects detained in late April.
"The accused is strongly suspected of planning a severe act of violence against the state out of a right-wing extremist conviction," the prosecutor's office in Karlsruhe said in a statement.
Maximilian T, the investigators discovered, was stationed at the same Franco-German base near Strasbourg as army lieutenant Franco Albrecht who was arrested in late April, and who was covering for his regular absences at the base.
Albrecht was first interrogated by Austrian police in February after he was caught trying to retrieve a loaded 7.65mm pistol he had hidden earlier in a toilet at Vienna airport. Throughout the course of the investigation, authorities discovered that the 28-year-old managed to create a false identity of a Syrian refugee that he allegedly planned to use as a cover to murder elected officials. Albrecht together with 24-year-old student Mathias F were arrested on April 26.
Prosecutors believe the trio wanted to attack high-ranking German politicians, who support the government's refugee policies. The names on the hit list allegedly included Joachim Gauck who served as President of Germany from March 2012 to March 2017 and the current Justice Minister Heiko Maas.
READ MORE: German soldier who posed as refugee arrested over suspected 'false flag' attack plot
"The suspects have classified their possible targets in various categories – there were categories from A to D," Federal Prosecutors' office said.
The two soldiers from Jagerbataillon 291, along with Mathias F., allegedly wanted to disguise the murder as an act committed by a refugee.
The murder would "be seen by the population as a radical Islamist terrorist act committed by a recognized refugee," read a statement from the prosecution, the Local quoted.
Prosecutors now believe that the newly detained suspect, Maximilian T., traveled to Vienna with Albrecht in January where Franco stashed the gun which he allegedly planned to use in an attack at the airport, Der Spiegel reported. The detained soldier has also allegedly helped to compile their hit list.
Authorities also say that Maximilian T. along with Franco Albrecht were active in spreading extreme-right messages online, including photos and audio files.
The ongoing investigation into the possible failed plot to target high-ranking German politicians has raised serious questions about right-wing sentiment within Germany's armed forces.
The issue has also raised concerns as to how Franco Albrecht managed to manipulate Germany's asylum procedures and assume the identity of a Syrian refugee.
Last year, Germany received almost three times fewer asylum seekers than in 2015. Some 350,000 refugees entered the country in 2016, while 890,000 people crossed into Germany the year before. The issue of migrants has polarized German society and amplified xenophobic attitudes.
Meanwhile, authorities reportedly uncovered Nazi memorabilia and propaganda posters at an army barracks in western Germany.
You can share this story on social media: