US warship & S. Korean fishing boat collide in Sea of Japan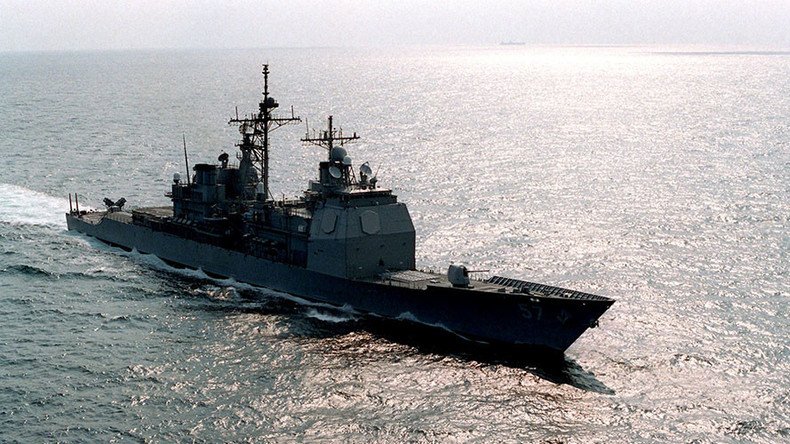 The USS Lake Champlain Ticonderoga-class cruiser has collided with a South Korean fishing vessel during drills in the Sea of Japan, Yonhap state news agency reports.
The vessels crashed on Tuesday afternoon during a training mission in Japanese waters, 70 miles (112km) east of Gyeongbuk Province, according Yonhap citing defense officials. No casualties have been reported so far.
The cause of the accident remains unclear and is to be investigated. According to the South Korean news agency citing unnamed sources, the boat suddenly appeared near the warship, which at the time was involved in drills along with another vessel.
South Korea and the US are holding joint naval drills in the Sea of Japan aimed at deterring North Korea after the reclusive state conducted a series of missile tests. Pyongyang has carried out serval launches since the beginning of this year, with three coming over past two months. All have been described as failures by Washington, however.
The US has boosted its military presence in the region recently, sending an aircraft carrier group led by the USS Carl Vinson to the Sea of Japan. Tokyo is also concerned about its neighbor's nuclear ambitions and has held war games with US forces.
In another deterrent step, the US deployed a THAAD anti-ballistic missile system in South Korea to protect the country from attacks coming from the North. Although Washington reportedly expects its ally to pay for the missile shield, Seoul has refused to further discuss the matter, as it was initially agreed that the US would take on all the costs.
Pyongyang has repeatedly threatened the US and its allies, including South Korea and Japan, warning that their actions on the peninsula could spark a nuclear war.

READ MORE: Joint US-S. Korea naval drills start in Sea of Japan amid tensions around Korean peninsula
Russia and China have expressed deep concern over the escalation of tensions on the Korean peninsula and have frequently called on all parties to find a peaceful solution to the crisis. However, US Secretary of State Rex Tillerson has stated that the military option remains on the table.
You can share this story on social media: