Christian Jakarta governor sentenced to 2 years for 'blasphemy' against Islam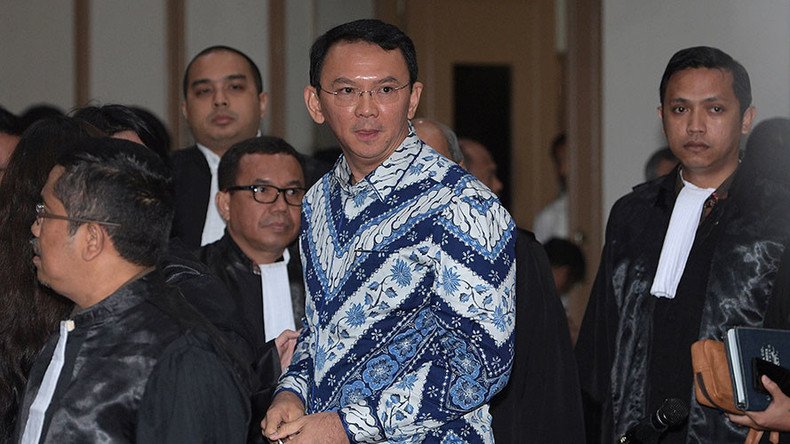 An Indonesian court has found the first Christian governor of Jakarta guilty of blasphemy against Islam, sentencing him to two years in prison. His supporters have blasted the verdict, fearing it signals the 'Islamization' of Indonesia.
Basuki Tjahaja Purnama, nicknamed 'Ahok,' was sentenced to two years in jail on Tuesday by the five-judge panel of the south Jakarta court.
He was "found to have legitimately and convincingly conducted a criminal act of blasphemy, and because of that we have imposed two years of imprisonment," head judge Dwiarso Budi Santiarto stated.
Other judges supported the blasphemy charge, saying that "the defendant didn't feel guilt," "caused anxiety and hurt Muslims," and should not have used "words with negative connotations regarding the symbols of religions," according to the Guardian.
The governor was arrested immediately after the verdict and taken to Cipinang Prison in east Jakarta, but is set to file an appeal. The sentence is harsher than prosecutors had called for as they had reportedly recommended two years of probation, AP reports.
Crowds gathered outside the court, demanding that Ahok be given the maximum five-year sentence for blasphemy.
His supporters also rallied outside the building, some of whom could be seen crying.
Some on social media were angered at the verdict and accused the court of intolerance.
For demonstrators, it's not justice that you win today. It's triumph of intolerance and ignorance. And a big lose for Indonesia. #ahok

— Virya Wijaya (@WijayaVirya) May 9, 2017
Ahok is a victim of a radicalism and intolerant group in this country, it's very heartbreaking #RIPHukumIndonesia

— Benedict Christian G (@benedictcg02) May 9, 2017
Even the world of fiction is losing its pull today. Too distracted by this sad news. Can't work. #Ahok

— Dee Lestari (@deelestari) May 9, 2017
Ahok is honestly the first and only politician/ ruler/ leader/ GOVERNOR I've shed tears for. I lost faith in justice in Indonesian court.

— im melissa 🌐 (@bts__melissa) May 9, 2017
I don't know why i'm crying right now. I'm ashamed to be Indonesian. Ahok's passion is the best. He is the real represntative of Christ.

— Micah Di (@micah_di) May 9, 2017
We cry not because Ahok is jailed, but because he jailed without do anything wrong!! This country is full of s*it!! #SaveAhok

— #staystrong (@grace_tanu) May 9, 2017
Others claimed that the move was a sign of the Islamization of Indonesia.
Ahok's jailing confirms the Islamists & New Orderists aren't satisfied just winning the election, but aim to purge & take over the country.

— Daniel Ziv (@DanielZiv) May 9, 2017
Indonesia claims to be a 6-religion country. And yet, today's verdict to Ahok blantantly shows how corrupt and intolerant this country is.

— Venny (@veve_ch) May 9, 2017
The guilty verdict didn't appear to dent Ahok's popularity among many – he was apparently a selfie star with Cipinang Prison guards, some of them wearing Muslim headscarves.
Human Rights Watch researcher Andreas Harsono blasted the sentence as "another setback for Indonesia."
"Ahok's is the biggest blasphemy case in the history of Indonesia. He is the governor of Indonesia's largest city, an ally of the president. If he can be sent to jail, what could happen to others?" the researcher said, as quoted by the Guardian.
Indonesian President Joko Widodo called on all parties to respect the court's decision.
"I ask that all parties respect the legal process and the verdict that was read by the panel of judges, including respecting steps taken by Basuki Tjahaja Purnama to appeal," Widodo said. Earlier the leader promised not to protect his ally during the process
Purnama, who became the first Christian governor of Jakarta in 50 years and the first ethnic Chinese person to hold the office, faced the trial following a re-election campaign speech last year, in which he cited a verse from the Koran. He accused his political rivals of misinterpreting the holy Muslim book to urge people to vote against someone of a different faith.
His wrongly subtitled speech then went viral and caused outrage on social media, as people saw criticism against the Koran, but not his opponents. The governor apologized, although this appeared to make little difference.
Following the scandal Jakarta was hit by a 200,000-strong Muslim rally against the governor. Responding to the demands to arrest him, tens of thousands of his supporters took to the streets of Indonesia's capital last December.
The charges allegedly led to Purnama's defeat during last month's election to a Muslim rival, Anies Baswedan. Although Indonesia officially recognizes six religions – Islam, Protestantism, Catholicism, Hinduism, Buddhism and Confucianism – there are concerns of rising influence of hardline Islamist groups.
You can share this story on social media: