Tens of thousands march in Indonesia to support first Christian governor after 'blasphemy' protests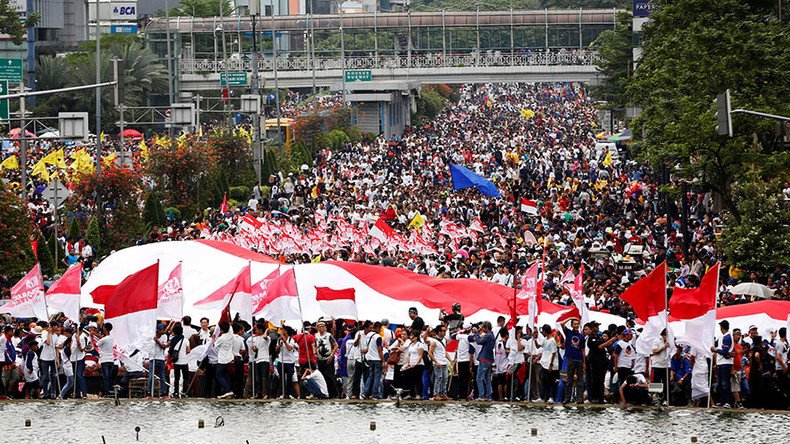 Tens of thousands of protesters took to the streets of Jakarta, Indonesia's capital, to show national unity and call for tolerance after a 200,000-strong Muslim rally demanded the arrest of the city's first Christian governor for alleged blasphemy.
Crowds holding up 'We are Indonesia' signs and waving red-and-white national flags flooded the streets of Jakarta on Sunday, filling a major traffic circle downtown, AP reported.
The rally reportedly was organized in response to two massive protests staged in the past month by hardline Muslim conservatives against Basuki Tjahaja Purnama, nicknamed 'Ahok' – the first ethnic Chinese governor of Jakarta and the first Christian to hold the post in 50 years.
According to Jakarta police spokesman Argo Yuwono, roughly 30,000 people attended the rally.
The 'Parade of Indonesian Culture,' as the unity demonstration was dubbed by its organizers, featured traditional dances from Sabang in the country's westernmost Aceh region to Merauke in its easternmost Papua region.
Political leaders from President Joko Widodo's pro-government coalition also attended the rally to promote unity in the ethnically diverse country.
"We have to fight to materialize the aims of our independence. That will not happen if we are scattered, blaspheming, humiliating each other and no longer trust each other," Surya Paloh, chairman of the National Democratic Party, was quoted as saying by AP.
"Our main enemies are stupidity and poverty. Therefore, we ask the current government to work harder and persistently on fulfilling the people's aspirations," he added.
Earlier on Friday, Indonesia, the world's largest Muslim country, saw at least 200,000 people call for the arrest of Governor Purnama, who has been accused of disrespecting the Koran – a charge that could put him in prison for five years.
200,000 Muslims rally in Indonesia to protest against 'blaspheming' Christian governor
"Let's defend our religion," Rizieq Shihab, leader of the Islamic Defenders' Front (FPI) – a hardline Islamist group – said at the rally in a speech quoted by AFP. "Stop all forms of religious blasphemy and put all violators on trial."
Purnama got into trouble when he used a quote from the Koran in a speech about his political opponents, who he accused of misinterpreting the verse to urge people to vote against him. The Governor has since apologized for his remark, saying that he had intended to criticize his opponents, and not the holy book itself.
You can share this story on social media: