Over 80 Chibok schoolgirls released by Boko Haram in prisoner swap – Nigeria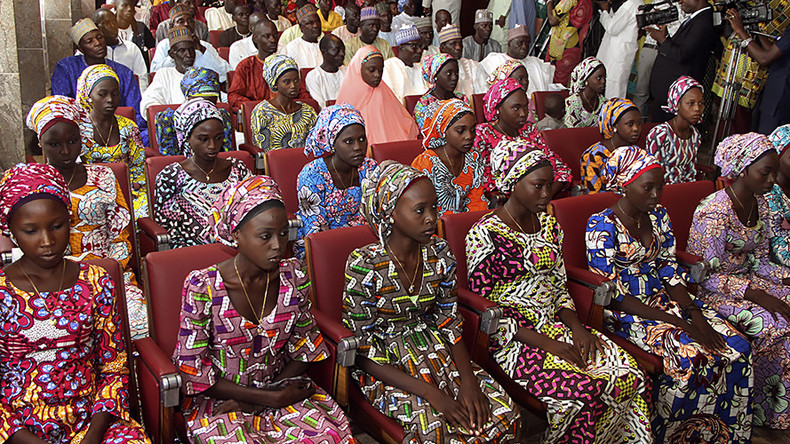 Terrorist group Boko Haram has freed 82 girls it captured in a raid on a Chibok boarding school in April 2014. Some 300 girl students were kidnapped, sparking global outrage and a #BringBackOurGirls campaign. Nigeria has confirmed it swapped the girls for prisoners.
The Nigerian government issued a statement on Sunday, confirming that 82 Chibok girls were freed by the West African Islamist group as result of "lengthy negotiations" and "in exchange for some Boko Haram suspects held by the authorities."
Read more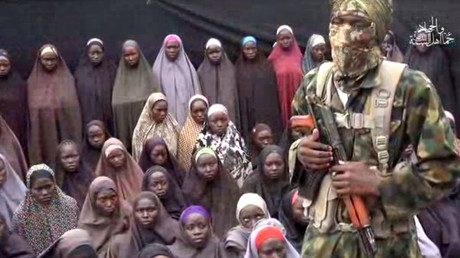 The operation involved efforts by a variety of national and international actors, including the Swiss government, the International Red Cross, the Nigerian military and security services, as well as local and foreign non-governmental organizations.
The girls will be personally welcomed in Nigeria's capital, Abuja, by President Muhammadu Buhari on Sunday.
An anonymous government source earlier told CNN that 82 former captives were transported to the northeastern Nigerian town of Banki on the border with Cameroon. He said the girls are now set to undergo a series of medical checks before eventually being flown to Abuja to be reunited with their families after three long years of separation.
There was some confusion about the number of the freed girls, with different government sources providing slightly different accounts earlier in the day.
A military and a civilian militia source on the ground cited by AFP said the girls that have been temporarily accommodated in military barracks in the town.
Little has so far been revealed about the details of the operation.
On Sunday, a group of the girls arrived in Abuja, Nigeria's capital, Reuters reported citing an unnamed witness. They were then driven from the Abija airport in a military convoy.
The International Committee of the Red Cross (ICRC) has posted what might be the first photo of the freed girls, showing the former captives walking across a runway to a helicopter wearing shirts bearing Red Cross emblems.
The girls were allegedly exchanged for two high-ranking Boko Haram operatives and an unspecified ransom, according to SaharaReporters citing senior army sources.
The deal had reportedly been struck between Boko Haram senior commanders in Banki and Nigeria's federal government.
The region in Nigeria where Boko Haram Islamists kidnapped over 200 schoolgirls more than three years ago and a timeline of releases. pic.twitter.com/pBiMrHPIaq

— AFP news agency (@AFP) May 7, 2017
During the first phase of the two-step operation, the two commanders, escorted by representatives of the military and Red Cross, were handed over to Boko Haram in Banki. Honoring their part of the deal, the militants then reportedly took the schoolgirls outside the town, where they were subsequently picked up by the military.
Some eyewitnesses were caught unawares by the supposed clandestine operation.
"We were not sure why the helicopters were landing until we saw two men handcuffed and driven away in a military convoy and also the Chibok girls driven into town under heavy military escort," Sani Usman, a local resident, told SaharaReporters.
READ MORE: Britain & US reportedly knew location of 80 girls kidnapped by Boko Haram but failed to act
The much-awaited news sparked a flurry of activity on Twitter and Instagram.
🎷🎺🎷💃🏾💃🏾💃🏾
It is REAL!
It is a FACT!!
Another set of OUR # ChibokGirls ARE BACK, folks!
WE REJOICE & PRAISE GOD with their Parents! FG,👏🏿👏🏿

— Oby Ezekwesili (@obyezeks) May 6, 2017
The 2014 kidnapping made headlines and prompted exchanges on social media, with celebrities and politicians joining the campaign #BringBackOurGirls calling for the release of the children. Those included former first lady of the US Michelle Obama and Nobel peace prize winner Malala Yousafzai.
The co-founder of the movement, Obiageli Ezekwesili, former Federal Minister of Education of Nigeria hailed the release.
"This is very, very exciting news for us," she told Sky News.
If not for social media, the news of release of #ChibokGirls will only go viral tomorrow after 9am News.

— I have Shoes™ (@abubakar47i) May 6, 2017
Wow such delight and joy that more #Chibok girls have been released. Thanks be to God. And kudos to those who never gave up hope.

— Adeh (@adeh_michael) 6 мая 2017 г.
Meanwhile, the UK Foreign Office warned its citizens on Saturday that Boko Haram was now eyeing to kidnap westerners in Borno state, where Banki is located.
Read more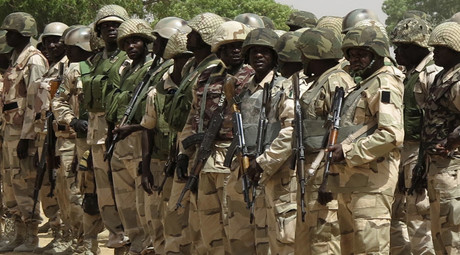 "We have received reports that Boko Haram is actively planning to kidnap western foreign workers in Bama local government area of Borno state, along the Kumshe-Banki axis," it said in a statement, as cited by The Telegraph. The statement added that British citizens working in the area should be "alive to the potential risk of kidnapping as a means by the terrorist group to raise funds."
READ MORE: Nigeria 'foils Boko Haram attack on UK & US embassies'
Of the 276 girls, abducted from the school in Chibok, 21 were released last October in a deal negotiated by the Red Cross.
Some 50 girls have managed to escape not long after they were kidnapped while several others have been rescued.
Some 200 girls were believed to be in captivity until the latest release.
The girls, aged 16 to 18 at the time of the abduction, were forced to marry militants with many believed to have had children.