Kidnapped Chibok schoolgirls reportedly featured in latest Boko Haram footage (VIDEO)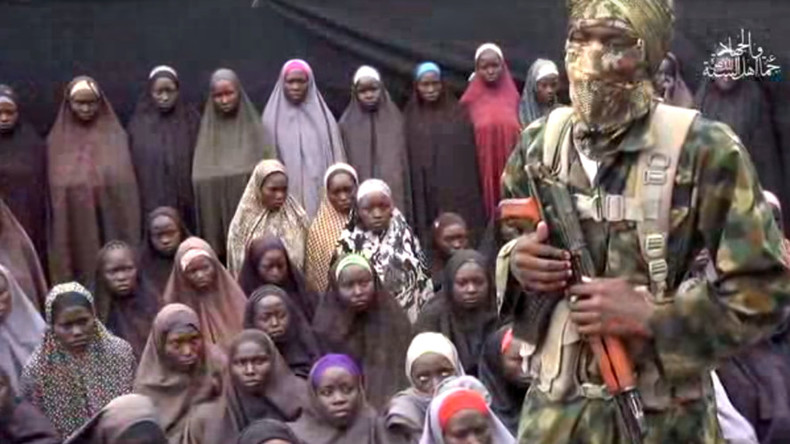 Footage purportedly showing Boko Haram's new leader has emerged online, displaying a masked gunman demanding that Nigeria's government release their fighters in exchange for the abducted Chibok schoolgirls.
The new video is thought to feature Abu Musab al-Barnawi, the recently appointed successor to Abubakar Shekau, who has not been seen since early 2015.
While as yet unverified, the video is similar to previous Boko Haram releases.
In the 11-minute clip, a man dressed in military clothing with a gun slung across his shoulder claims that a number of the kidnapped girls have been killed in Nigerian air strikes, while at least 50 young women in head scarves can be seen lined up against a darkened backdrop.
One of the captives, identified by the BBC as Maida Yakubu, is then directed to appeal to her parents to put pressure on the Nigerian government to release imprisoned Boko Haram fighters.
"We are suffering here, the aircraft has come to bombard us and killed many of us. Some are wounded. Every day we are in pains and suffering. Some of our husbands that we married also are injured, some dead. No one cares for us," the girl is reported to have said.
Posted to Twitter on Sunday by a Nigerian journalist, the broadcast claims to be a message to the "family of Chibok girls".
According to the Associated Press, the latest video includes an ultimatum to the families warning that they will never find the girls again if the fighters are not released first.

In a 2014 raid on a Chibok town secondary school, the Nigerian militant group kidnapped 276 girls, more than 200 of whom are still believed to be in captivity.
Last year Nigerian president Muhammadu Buhari said that government forces had "technically" beaten Boko Haram. However, a January report from the Armed Conflict Location & Event Data Project stated that the group remains the most prominent perpetrators of violence against civilians.
#BREAKING Nigerian government says 'in touch' with Boko Haram over Chibok girls video

— AFP news agency (@AFP) August 14, 2016
In an interview with RT.com, the mother of a Chibok captive spoke of the profound impact the girls' abduction has had on the community.
READ MORE: Help us find them alive: Mother of Boko Haram-kidnapped girl appeals to US via RT
"It was terrible. We have been crying days and nights, seeking help from heaven. Seeking help from the Nigerian army," she said.
"We are dying. We lost 15-20 parents. Some killed by Boko Haram after the abduction, some died due to a heart attack, blood pressure or diseases."
It's estimated that the terrorist group killed more than 6,000 people in attacks last year.